Because I haven't even begun to over-extend myself, I have decided to participate in three...that's right Four more reading challenges. Luckily, most of these challenges overlap so I won't be a complete and total social recluse as I lock myself into quiet rooms to read for hours on end.
The good old Goodreads Reading Challenge! I am truly challenging myself this year by trying to read 300 books. I'm going to say that it's a pretty reasonable amount when I have read over 150 books in the less than 6 months I've been blogging about them. We will see though...I'm probably just crazy and will fail epically...but cheers for going big! :)
Another challenge that I found is a really cool one...at least to me. It's called the European Reading Challenge 2012! The Challenge is hosted by
Rose City Reads
, and basically you tour Europe via novels! There are multiple levels of participating and I plan on being a 5 Star (Deluxe Entourage) tourist, with a side of Agrotourismo, Youth Hostel, and Culture Vulture. You won't know what any of that means, but its a fabulous and fun challenge and if you wanna learn more or participate head over to RCR and sign up!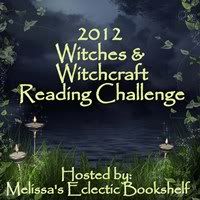 I'm also participating in the Witches and Witchcraft Reading Challenge hosted by Melissa's Eclectic Bookshelf! I will participate as a Crone (16-20) because I already have a crap ton of witchy books on my TBR pile. I need some good re-reads like the Sweep series too... If you like the paranormal or witches try to challenge yourself this year by participating! My favorite witches are Kelley Armstrong's Savannah Levine and Paige Winterburn so give them a chance if you're already participating...
The Final (maybe) challenge I'm planning on participating in this year is the 2012 ABC Reading Challenge! This year the challenge is hosted by
Gripped Into Books
,
Cicely Loves Books
and
Book Geek Central
. I was participating unofficially last year, and the only letters I left out were Y and X! I was so close!!! This year, I'm going to officially participate AND I'm starting off with both Z and X this week! BAM! That way the only one I'll probably have trouble with is Y...where's Gilderoy Lockhart's Year with the Yeti when you need it???