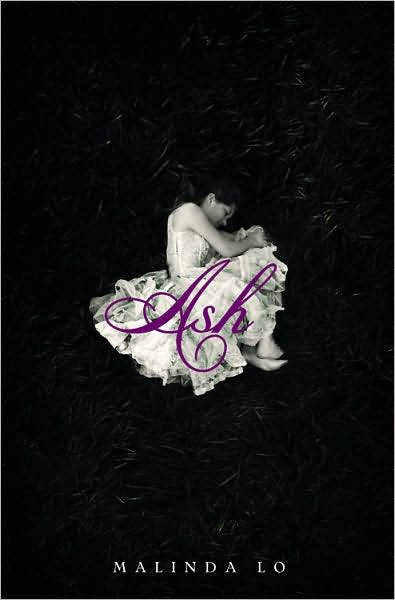 Title: Ash
Author: Malinda Lo
Series: N/A
Pages: 291
Publisher: Hodder Children's Books
Genre: Fairy Tale/ Fantasy
Source: Purchased for YA Lit Class
Goodreads Description:
In the wake of her father's death, Ash is left at the mercy of her cruel stepmother. Consumed with grief, her only joy comes by the light of the dying hearth fire, rereading the fairy tales her mother once told her. In her dreams, someday the fairies will steal her away, as they are said to do. When she meets the dark and dangerous fairy Sidhean, she believes that her wish may be granted.The day that Ash meets Kaisa, the King's Huntress, her heart begins to change. Instead of chasing fairies, Ash learns to hunt with Kaisa. Though their friendship is as delicate as a new bloom, it reawakens Ash's capacity for love-and her desire to live. But Sidhean has already claimed Ash for his own, and she must make a choice between fairy tale dreams and true love.Entrancing, empowering, and romantic, Ash is about the connection between life and love, and solitude and death, where transformation can come from even the deepest grief.
My Review:
This is not your mom's Cinderella. This is certainly not the Disney's Cinderella you grew up with. This is not even the Cinderella that the Brothers Grimm pulled from Germany complete with all of the blood and violence all those many years ago...No.This is an entirely different story with hints (okay...maybe loud screaming similarities) that allude to the common knowledge story of Cinderella. In addition to the typical fairy tale, there is a full on mixture of Celtic/Norse mythology that is almost as central to the main plot as the Cinderella version. The resulting story has little resemblance to anything we've seen before, though it does draw a lot from the two differing sources. There are so many interesting things about this book that I don't know where to start. It is truly a very different kind of thing than I am used to.
The setting/time is odd. Like most fairy tales, there is no specific time or place. There is "the old country" and random villages, and lots of forests and big cities and "the southern border" but there are no specific landmarks and places. This definitely gives it a surreal kind of atmosphere since you can't exactly pinpoint when and where it takes place. I think this is so that anyone from any country can imagine that it's occurring in their country...I also like how it has some cool religion/science things that are taking place. In our world, mythology was chased away and condemned first by religion and then by science. In this world, the mythology is chased away by a weird scientific religious group who fight myth with logic. I just know that there is something intelligent and smart in there that says something profound about history or culture or something...but I don't really feel like being all analytical and I'll just say that I thought it was neat.
A really interesting addition to this story is a huntress figure. I was thinking about it, and we don't have any really strong women figures in popular literature. Before all of you jump down my throat and tell me about all the kick-ass heroines in Urban Fantasy and what about Katniss? She's strong! Well, think about the best sellers on Amazon. There are probably 4x the amount of male protagonists who kick ass thank females. Even if there is a good heroine, she usually is klutzy, or weak in some other way. I'm not saying those aren't great books or that there aren't strong female leads out there, but in the popular branch of literature, females aren't supposed to be strong. They're supposed to be cute, spirited,and have gorgeous bodies. Even the Hunger Games, which is extremely popular right now, and has one of the most fantastic female MC's ever, has sold roughly 1/9 of the books that Twilight has. Why does a MC who is klutzy, irresponsible, and vaguely pathetic (sorry guys...I love twilight too, but I'm just being honest) beat out a MC who kicks ass, kills people (though nicely), and saves an entire world? I'm not sure, but that's America for you...I'm not sure about roughtly 98% of the things other Americans do.
Sorry..I got mildly off topic there...so generally speaking, there are not very many popular and strong main characters, especially in traditional fairy tales. I liked that this book had two very strong lead female characters. There is a very understated, but prominent theme that females are strong. Through the Huntress (in all f her different incarnations) there is this powerful representation that women and girls can be great. I thought it was very clever to include such strong and daring characters when the original "disneyfied" characters were all about being rescued by their princes. It was even kind of cool to see the younger step-sister talk to Ash about womens roles. She didn't outright talk about womens rights, but she told Ash not to mock those whose only dreams were of getting married. It's true that being a Stay-at-home mom can be tough. There are all sorts of expectations put on you that make it like a full time job, and some girls want that. It was pretty cool to see both types of women present in this book.
The "Faerie" part of this story was the character Sideon, who took the place of both a fairy god-mother and an almost love interest. Both he and the fairies in general felt weird in the context of the other cinderella/huntress story. It was like there were two seperate stories going at the same time and they were barely tied together. I kind of felt like I was watching Ever After on one TV and some random fey story on the other. It blended together better after the huntress showed up, but still...it was odd. Ash is really conflicted when it comes to choosing between the fey and Sideon or court and the huntress. She is a kind of confused character, but she is kind and sticks to her guns when she is in bad situations which made me grudgingly like her.
I give Ash 4 out of 5 Keys. It was as original as a story can be that uses elements from 3 other stories. I liked that the love triangle was about a woman choosing between a man and another woman. THAT was definitely not in Disney's Cinderella. I loved that it didn't matter that Ash loved a woman, it was just what she wanted and things were easy and awesome. I didn't think that there was a lot of point behind Ash meeting the actual prince. He was irrelevant to this story and I only wish that we could have seen more of Sideon. He was one of the most interesting characters and I felt that he was one of the ones that had the least amount of page time. It would have been cool to learn more. Overall it was a pretty interesting book, I am not sure If I will read any more of Lo's books though. The writing style wasn't something I usually like, and I was kind of weirded out by the frankensteining of all the different stories put together.