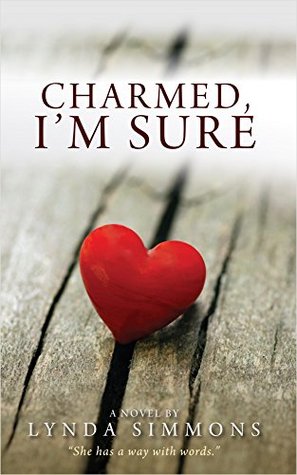 Title: Charmed, I'm Sure
Publisher: Bluefoot Press
Source: Goddess Fish Blog Tours
Buy Me!
Synopsis:
One minute Maxine Henley is the happy bride-to-be and the next she's the girl who gets dumped over the phone. Max has never believed in magic and fairy's tales, but if wearing a love charm can warm her fiancé's cold feet, she's happy to stuff that little wooden heart next to her own and wait. The charm came with a promise that the right man will find her, guaranteed, but how can that happen when her teenage crush Sam O'Neal keeps getting in the way!
~The Ballad of Jimmy James~
Susan holds out a cup of coffee. "I'm not sure how you take it anymore. So I took a flyer and ordered it the way you always used to. Black, two sugars." Her smile begins to fade. "I hope that's okay."

Part of my brain is telling me to speak, to take the coffee, to smile for God's sake. But the other part just keeps repeating, Susan, Susan, Susan, like some kind of mantra for dummies.

"Maybe this wasn't a good idea," she says, lowering the cup, taking a step back, and that's all it takes to get my mouth moving and one hand reaching out. For her, the coffee, anything that will make her stay, prove that she's real.

"No," I say, not the best opening, but a start. "It's wonderful, amazing really. I'm just surprised. Actually, I'm beyond surprised. I'm shocked, but in a good way, you understand."

I'm babbling like an idiot, something I haven't done in years. No one wants to hear it, Jimmy James. But Susan just laughs and hands me the coffee.

"You haven't changed a bit," she says. "And I couldn't be happier."

Lucy leans in. "I'll let you two catch up."

I watch her go back into the shop, realizing if not for her, I wouldn't be here right now. I'd be on my way home with chicken and Kraft Dinner and George's favourite Neapolitans, and Susan would still be nothing more than a memory. Lucky stars on duty after all, I suppose.

"So what have you been up to?" she asks, tilting her head to the side – a gesture I remember now. One I liked because it meant I had her full attention, just as I do now.

"Nothing," I say because it's true. "But I want to hear all about you. Where you've been, what you've been doing. Most of all why you're here."

And why I'm lucky enough to be talking to you.

"Tom found my name on one of those class reunion sites about a month ago. He sent me a message and we've been emailing back and forth ever since. I've looked for your name on that site and others, but I could never find you."

That's because I don't have a computer, but it's probably best to keep that to myself right now.

"I'm not much into sites like that," I say and she nods. Agrees that they can be a bit overwhelming, and asks if I'd like to take our coffee up the street to the park.

"I can't leave the store," I say, surprising myself, "but we can sit on the table and catch up if you have time."

"I have a luncheon at twelve thirty." She pushes back the sleeve of her blouse, checks an elegant silver watch. "But I can sit for a while."

A luncheon. That would explain the black suit and white blouse, neither of which I'd noticed until that moment.

She follows me to the Loonie Bins table, and when I give those bins a shove, I realize that my sit-in had nothing at all to do with the lack of shoppers stopping to browse. All three bins are empty, every book gone and I wish I'd counted them so I can pay Tom back for any that simply walked away.

I sit beside her on the table, wishing I had the courage to move closer, to let our legs brush together. But it's been a long time and the last thing I want is for her to think of me as a dirty old man. "Are you meeting friends for lunch?"

"Colleagues. I'm here for a medical conference." She salutes me. "Dr. Heatherington at your service."

I laugh and toast her with my coffee. "You did it, exactly as planned. "

"And the astronaut thing?"

"Still working out the details." I lean back on my hands. "Now tell me everything I've missed."

Her voice is as lovely and lilting as ever, sweeping me up and carrying me along as she tells me about her home and her practice in Victoria, her two grown children and finally the recent death of her husband after twenty-five years of marriage.

"I'm sorry to hear that," I tell her.

She looks down at the coffee in her cup. "Donald was a good man. But he was never like you." She hesitates, as though weighing her next words carefully. And when she raises her head to look at me, I'm certain she can hear the pounding of my heart. "I've never stopped thinking of you, Jimmy, always wondering how you were and what you were doing. I wrote letters for a few years, even called a few times, but I never heard back."

"That's because my mother screened everything that came into the house. But despite her best efforts, I've never stopped thinking about you too." I take a chance and reach for her hand. Feel my heart swell when she curls her fingers around mine.

"When I told Tom I'd be in town for a conference, he said you usually drop by on Friday mornings, between nine and noon. I wanted to get here earlier, but my flight was delayed. When I couldn't reach him on his cell phone I was worried I'd miss you."

"He didn't tell me any of this."

"That's because I asked him not to. I wanted to surprise you, give you an out in case you didn't want to see me."

"How could you think that?" I squeezed her hand. "All I've ever wanted was to see you again."

"Then have dinner with me." She takes a card from the pocket of her jacket, presses it into my hand. "I'm staying at the Marriot. Meet me there tonight and we can catch up."

And there it is, right in the palm of my hand. A great challenge, in unassuming black and white.

The choice is mine now. Think of myself and say yes to dinner. Or think of my family and go home. It's scrabble night, after all.

"What the hell do you think you're doing?" a familiar voice hollers.

I look up and see George huffing toward me. Red-faced, sweating, hands balled into fists, pumping back and forth with every step. I can smell him long before he draws up in front of me.

He grabs my shirt, hauls me off the table and it occurs to me that perhaps I was wrong about those lucky stars after all.

"You Goddamn son-of-a-bitch," he says. "You need to get home now."

And just like that, twenty years of silence is broken and all of my choices taken away.
~Meet Lynda!~
Lynda Simmons is a writer by day, college instructor by night and a late sleeper on weekends. She grew up in Toronto reading Greek mythology, bringing home stray cats and making up stories about bodies in the basement. From an early age, her family knew she would either end up as a writer or the old lady with a hundred cats. As luck would have it, she married a man with allergies so writing it was.
With two daughters to raise, Lynda and her husband moved into a lovely two storey mortgage in Burlington, a small city on the water just outside Toronto. While the girls are grown and gone, Lynda and her husband are still there. And yes, there is a cat – a beautiful, if spoiled, Birman. If you'd like to read the legend of Birman cats click here. If you'd like a link to allergy relief, click here.
When she's not writing or teaching, Lynda gives serious thought to using the treadmill in her basement. Fortunately, she's found that if she waits long enough, something urgent will pop up and save her - like a phone call or an e-mail or a whistling kettle. Or even that cat just looking for a little more attention!
One randomly drawn commenter will win a $50 Amazon Giftcard! To enter, please just comment below and fill out the rafflecopter.