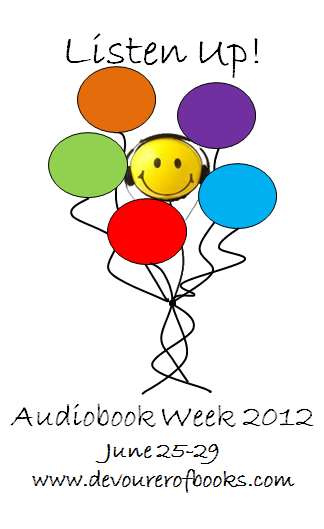 Today is Day TWO of audiobook week! If you haven't already, check out my review of Cinder by Marissa Meyer and Macmillian Audio! I'm giving away a copy to one of my commentors/followers and it ends Friday!
Discussion Question #2
Discuss the essentials of audiobook reviewing. What do you make sure to include? What do you want to see when you read other people's reviews?
To be honest, I don't really have a set standard when it comes to what to include or not to include about the book, though I always includes something about the way the narrator...well...narrated the book. Was their voice annoying or nasally? Was the story monotonous in their voice or did it have complexity and depth? Did the characters sound different or did I have trouble determining who was speaking when I turned the book on? All those kinds of questions are really important to me when choosing a narrator. If I read anywhere that a narrator's voice is obnoxious or irritating, I will NOT listen to it. I remember one audiobook...gah...I can't remember which one it is right now...but when she narrated the main character, the voice she chose was so nasally and...snobby almost, that it turned me against the main character from the get-go. Instead of focusing on the plot and why I should like the girl, all I could think about was how irritating she was. Eventually I just stopped listening and found something that I would enjoy more.
I think the same thing applies to what I look for in other people's reviews. I want a brief rehashing of plot and how they thought the story of the book was...but what I really care about is whether it was a good book to
listen
to. I mean, it's a lot faster to read a book in print, at least for me. Listening takes about 3 times longer for me to do than actually reading it so I want to know that the audio version is worth my time. I want to know that the narrator gives the book something that I couldn't when I'm reading in my head. When the narrator takes a story from ordinary to extraordinary, I know that an audiobook is worth buying.