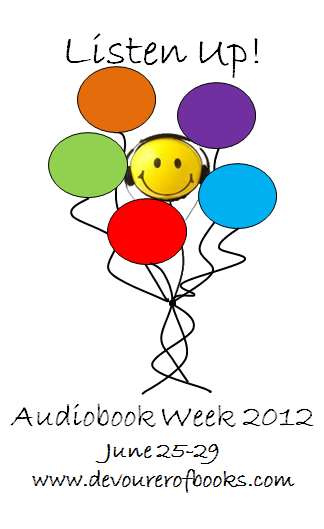 Today is Day 1 of Audiobook Week brought to you by Jen at
Devourer of Books
! All this week, there are going to be lots of discussions, reviews, and giveaways ALL about audiobooks! Squee!! There will be prizes for those who participate in the daily discussions, as well as for those who post an audiobook review at any time during the week! You can participate as little or as much as you want! I myself will be doing a few audiobook giveaways with some of the absolutely AMAZING audiobooks I've been listening to lately so make sure to check in daily to see what's up for grabs! Actually, I did a pretty LONG post on audiobooks a while ago, it kind of sums up my feelings for them as well as gives a pro/con kind of thing for those who haven't tried them before....Check that out
HERE
Discussion Question #1
Are you new to audiobooks in the last year? Have you been listening to them forever but discovered something new this year? Favorite titles? New times/places to listen? This is your chance to introduce yourself and your general listening experience.
I was new to audiobooks last year. It took some persuading and some really excellent audiobook reviews from Mickey @
I'm a Bookshark
for me to finally take the plunge. I think my hesitance was because when I was a kid, my parents made me and my brother listen to classics on audiobook (THE CASSETTE version...) on our family vacations. I tell you all...do NOT make Charles Dickens or Jane Austen your first audiobook experiences. Even with what I am sure were excellent narrators...my young mind was literally bored to tears and the experience turned me into kind of an audiobook hater. Still...I would always get an itch when I was walking past the listening library section at my hometown's library...and lots of other bloggers would rave about certain narrators so much that eventually I had to break down. My first audiobook (other than those craptastic classics from years ago) was one of the Stephanie Plum books by Janet Evanovich. I tell you what, my world was opened! Lorelei King became, and has since remained, one of my all-time favorite narrators. The way she brings each character to life, particularly the hilarious Stephanie Plum, made me love audiobooks forever. Now I listen to them all the time. When I work out...when I'm cleaning the house/apartment...even at work sometimes when the boss is in a kind mood. I go into much more detail about when/where I listen in that post I talked to you about...again the link is
HERE
if you'd like to check it out. I would just copy and past the post, but it's a bit long and full of fab photos so I'd rather not....still audiobooks are a huge part of my bookish experience now and I am SO grateful to those bloggers who gave me that push into listening! Thanks guys!
Thanks for stopping by and checking me out for audiobook week! I'd love to meet new followers/bloggers who love audiobooks as much as I do so feel free to leave a comment saying Hi! I can't wait to see what else audiobook week has in store for us! :)