Hi guys! I hope you've all had a great week! I definitely did, both here on the blog and at home! yay! Some of you know that I've recently made a new man-friend and I'm happy to say that things are going fabulously! I've actually been spending more time at his place than at my own house so if I've been bad at responding to comments, my bad, I've been a little...preoccupied ;) I have yet to show him this blog so I'm feeling free to ramble allll about him if I need to :)
As for the blog, there's been a lot going on! If you haven't been stopping by everyday like the lovely Giselle and Ashley Prince, then you might have missed something!
Reviews:
Meme's/Read-along's/etc
Upcoming Events Around The Blogosphere!
Another Read-Along! I'm not sure if I will be participating because I can't seem to get a copy of the book...but you should check it out if it looks like something you'd be into! Disfigurement, Masquerades, Demons...what's not to love??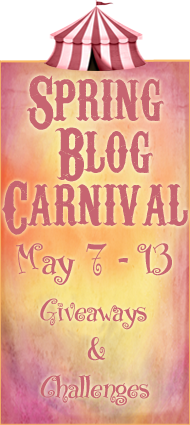 The Spring Blog Carnival is a-ways away...but you guys should still check out the event post! They are still accepting blogs to host "tents" on the carnival and it should be a super fun opportunity!
P.S. If there are any events going on with you or that you are hosting let me know! I will definitely link up and add buttons to my sidebar to spread the word!