My Book Boyfriend is a weekly meme hosted by Missie of

The Unread Reader

. Its a chance to pay homage to the hotties that haunt the pages of the novels we love. The men who stay in our thoughts late at night, who plague us during our long hours at work, who cause us to stare off into the starry night and sigh, because we want them here with us. Yes ladies, its the Book Boyfriend.
Today's Book Boyfriend is...
From Unearthly
By Cynthia Hand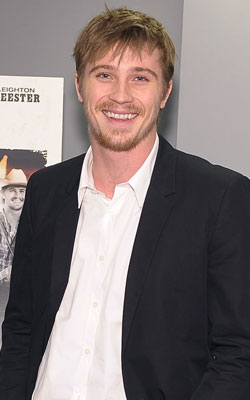 Tucker is so awesome. He's hilarious and witty, smart and sweet...so cute. AND he loves horses and the outdoors. Typically, I am not a big fan of cowboys and outdoorsy types, but I am SO willing to make an exception for dear Mr. Avery. He's the Twin brother of Clara's best friend, which causes some discomfort in the beginning of their relationship, though the discomfort is probably because Tucker continues to snark at Clara and pick on her wherever she goes. I think the reason I love him so much, is because
his and Clara's relationship is built on friendship and time. There isn't an automatic falling in love. In fact there is an automatic-sarcastic-snarky-friend-who-will-call-you-on-your-shit type relationship in the beginning.
Here are some of my favorite Tucker Quotes:
I stare helplessly down at my hands, afraid to look at him.
"Oh and I suppose you're my type, right?"
"I suppose I am," he says, and he's closing the distance between us and taking my face in his hands before I can even think to stop him.
"Tucker," I say. "I'm so glad you're still here."
I throw myself into his arms. He hugs me tightly.
"I couldn't leave," he says.
"I know."
"I mean, literally. I don't have a ride."
" I've been kissed before. But nothing like this. He kisses me with surprising tenderness, for all his gusty talk. Still cupping my face, he gently brushes his lips against mine, slowly, like he's memorizing what I feel like. My eyes close. My head swims with his smell, grass and sunshine and musky cologne. He kisses me again, a little more firmly, and then he pulls back to look down into my face."
Why yes I WOULD like a ride in your pick-up truck, I really would ;) yeahhh sugar. So do you like the sounds of Tucker?? Who's YOUR book boyfriend???
XOXO
~Andra~