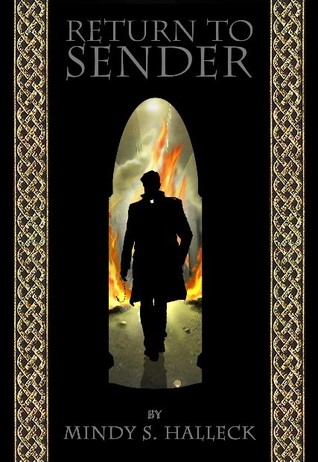 Title: Return to Sender
Date Published: October 29th 2014
Source: Goddess Fish Blog Tours
Buy Me!
Synopsis:
1955 ~ Father Theo Riley never wanted to be a priest, nor a killer. The former boxing champion and Korean War veteran gave up more than a career when he went into the Army. He lost the only thing he ever wanted: his love, Andréa Bouvre. Friends thought Theo entered the priesthood to mend his broken heart or atone for the massacred orphans he couldn't save in Korea. However, the truth is much darker and more damning, tied to a blood debt and family secret that has haunted Theo since he was a boy. He drinks to forget he ever had a life of his own—waits for death, prays for mercy, and hopes for a miracle. He gets all three when a child goes missing, another shows up on his doorstep, and the love of his life drives back into his world; the seaside hamlet of Manzanita Oregon. Theo's dream reunion with Andréa becomes a nightmare when a serial killer who considers himself a holy man targets the town and everyone Theo loves. Drinking days decidedly behind him, Theo and some old warriors set out to send evil back to hell and a few good souls to heaven in RETURN TO SENDER.
~My Thoughts~
Mindy's writing style was impeccable and quite expressive. I found myself easily slipping into her vision of the world in the 1950's and succumbing to the darkness and mystery found within! This is a psychological thriller and seems to write the book on tortured heroes with traumatic pasts.
The story revolves around Theo, a priest/war veteran/former boxer who is returning home after the Korean war all torn up inside and broken because of the war and losing the love of his life. Blending in almost Native American-esk kinds of spirituality, Theo strives to take similarly broken souls and heal them. He finds comfort in the bottom of a bottle, but his journey towards the priesthood transforms and heals him along the way.
I enjoyed the multiple points of view. It's great to get a good hero that you can fit inside his head, but it's even greater when you find a villain that either chills you to the bone or lets you feel out some of the reasons that they are so twisted. Getting glimpses from both sides of the fence helped to build a bigger, more condensed picture of events that was very enjoyable!
~Try an Excerpt!~
POV of the villain, Genghis Hansel;
Used to think that in prison I'd at least be in good company: broken heroes, twisted knights, and righteous kings of the damned—the keepers of dark underworlds, that sort. But no!
In prison it's mostly just a bunch of fools who did foolish things, guarded by other fools with guns who ultimately will do foolish things. Can't suffer fools. There's no excuse for 'em.
Just want out—out of this plaster hand cast, out of this cell, this prison, this puke green hell hole where one glance, one wrong word, one secretive tug can release an alchemy of hell on earth. Alchemy. That's a good word; something his God would say. Still, hell on earth because, like I said, they're all fools, and a foolish man doesn't know to just shut the hell up and do his time, or bide time until he can get out, unnoticed, real quiet-like.
Rain pelted against the tin shingles outside the unreachable window near the ceiling. That pinging sound and the absolute boredom got on my last nerve—needed a distraction. I squeezed my face between the corner bars to see the guard and shouted, "Rain, rain, rain! Frickin' rain."
"Shut up, Hansel." The fat guard with the moral fortitude of a hedgehog shouted back from the end of the corridor. He sat feet propped up on the desk, clipping his fingernails. Another sound I couldn't abide.
~Meet Mindy!~
Mindy Halleck is a Pacific Northwest author and writing instructor. She grew up the daughter of a celebrated beauty queen/songstress, and a retired soldier in Portland Oregon. Her career began early when at nine years old she stood behind the counter of the family business (shoe repair) on a whisky crate and was dubbed 'queen of the cash register'. It was there, surrounded by vibrant emigrants where she developed an ear for good stories. It was no wonder Mindy later developed a career in finance, good taste in shoes and a love for storytelling. You can hear some of these stories on her blog.
Portland was home except in the summers, when the cozy inlet of Manzanita Oregon was her family's escape and her father's hideaway from city life. Mindy's father was one of the hopeful gold diggers who honeycombed unsuccessfully through Neahkahnie Mountain in search of the elusive pirate's treasure rumored to be buried deep in the mountain. These settings are prominent features in Mindy's writing.
Writer's Digest Magazine published one of Mindy's first stories, Mr. Ed, in 2001, and in 2007 she
received Honorable Mention in the Writer's Digest Mainstream Literary Short Story Contest for an excerpt from Return to Sender. Mindy has written three novels, and one nonfiction book, Romance & Money - 12 Conversations Every Couple Should Have. In addition, hundreds of her articles have appeared in local and national publications, including her financial advice column, titled Romance & Money, and numerous travel essays.
Mindy has written her blog Literary Liaisons for seven years and is dedicated to the Pacific Northwest writing communities as a member of Willamette Writers in Oregon and Pacific Northwest Writers in Seattle. She is a steering committee member for the Edmonds Write on the Sound Writers' Conference in Edmonds, Washington.
Mindy is married and has one daughter and two grown grandchildren whom she adores. When not writing, she is happiest traveling Europe with her husband Joe; their most recent travel was a Rick Steves 21-Day Tour of six countries, which she highly recommends
Mindy will be awarding a $25 Amazon or B/N GC to a randomly drawn winner via rafflecopter during the tour, and a $10 Amazon or B/N GC to a randomly drawn host.