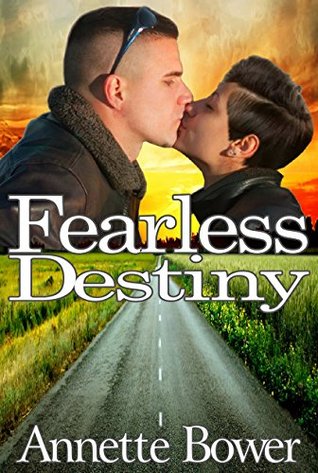 Title: Fearless Destiny
Publisher: Soul Mate Publishing
Source: Goddess Fish Blog Tours
Synopsis:
From the Romance Review Readers Choice nominee, Annette Bower, comes a new small town romance, Fearless Destiny. Tiffany George, riding high on her commission as a fresco artist, returns home for some deserved rest and relaxation.
The drive is uneventful until she rescues Will Cleaver on the side of a highway. While savoring memories of a kiss and a well formed butt, her future goals do not include a romance.

Once in town, she discovers the hopes and dreams of her community hinge on the development of a new resource mine and Will Cleaver's designed neighborhood. Her parents demand she give up art and resume her working partner role in the family business. Tiffany George is pulled by her community roots and stretched by her newly discovered independence.

Will Cleaver knows about taking charge of destiny. He models the courage she uses to become the woman she needs to be.
~My Thoughts~
I love the cover. The leading lady has such a badass haircut and she's the perfect combination of sassy and sweet. It fits Tiffany perfectly as she's got a passionate and artistic streak that makes her an true individual. She's searching for her independence and trying to find out where she's going in this life...but of course love has other plans for her.
I really related to Tiffany's conundrum of feeling the pull of the family business versus the desire to get out and do what you're really passionate about. That can be such a hard pressure to deal with, and Annette handles the delicacies of the emotional turmoils on both sides of the issue very well.
Tiffany's "I don't need a man" refrain kind of grated on me. It could have been because it's a romance book so...come on...there will most likely be a romance anyway. But aside from that, I felt like she didn't really have a good reason for being adverse to a relationship. What I did like is that once she got over herself, the romance flowed quickly and easily between Tiffany and Will. I liked that it was a very sweet romance. This isn't the sort of read where you'd be hiding your blushes should someone catch you reading in public. It's a genuine, fun, and lively romance that you will enjoy from beginning to end.
~Try an Excerpt!~
Turning onto the highway that led into the town of Apex, Tiffany George saw an abandoned gray compact car. Her father's voice rang in her ears, Don't drive by stalled cars on the highway. You never know who needs you. Slowing to a stop, she grabbed her flashlight and tucked her cell phone into her pocket.
She expected to see an empty vehicle. Tiffany felt like an unprepared Girl Scout when the light illuminated dark eyes. A hand pushed through black hair. The man's discomfort was obvious. His shoulders braced against the seat.
"Can I help you?" she called through the window.
"I'm not sure." His jaw muscles tensed, while he shaded his eyes against the flashlight.
"I'm going to open the door." Her forearms and biceps bulged, and her sandals skidded on gravel but the driver door wouldn't budge.
"Locking system jammed." His speech was slurred.
"That doesn't happen. Have you been drinking?" She sniffed for alcohol.
"No. Pain."
"What kind of pain?" She watched him with first-responder alertness. "Heart attack?"
"No." He bent down toward the floor.
Growing up as her father's helper in the family plumbing business, Tiffany knew her way around vehicles.
The man's head slumped onto the headrest. "Okay, Mister, tell me what's happening."
"Muscle cramps in both legs." He sucked air through his teeth. "Need to get out of this sardine tin."
"Push on your knees," she said calmly.
"Thanks, Nurse Nancy. I've tried. I need out."
~Meet Annette!~
Annette Bower writes about women's roles in families, in communities and women's emotions at the beginning and end of love in her home office in Regina, SK. Her short stories are published in magazines and anthologies in Canada, United States, and United Kingdom.

Her women's fiction novels with romantic elements, Woman of Substance and Moving On are published by Soul Mate Publishing.

Annette Bower's day-to-day experiences as a nurse, administrator, town councillor, teacher's assistant and student means that her stories are the real thing because they are about you and your neighbours. Her short stories and novels are read around the world. Her romance novels are set in Saskatchewan because she believes home is as exotic as anywhere else in the wide world she has visited.
Annettte will be awarding a $15 Amazon or Barnes and Noble GC to a randomly drawn winner via rafflecopter during the tour.