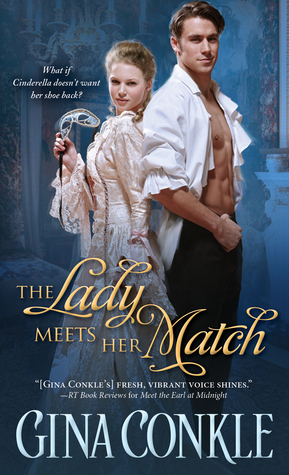 Title: The Lady Meets Her Match
Series: Midnight Meetings #2
Publisher: Sourcebooks Casablanca
Source: Goddess Fish Blog Tours
Buy Me!
Synopsis:
Cyrus Ryland didn't become England's wealthiest bachelor by being a pushover, but the mysterious beauty he discovers sneaking around at his grand ball enflames his curiosity. When the clock chimes midnight, and she's nowhere to be found, Cyrus vows to scour all of London to uncover who she is. Little does he know that not only does Claire Mayhew not want to be found, but she wants nothing to do with him at all...
~Try an Excerpt!~
She peeked up at him around his arm, her pretty face impertinent among all that untamed hair. Her tone and bearing matched the prim coffee shop proprietress, but the view was pure brazen tavern maid at the end of her day.
His arms flexed. So, the East Ender gave him up. He wanted to thrash the lad for doing something so foolhardy as bringing Claire here. Too many bad things happened to women in this ward, even those who lived here and knew their way around.
Claire placed a hand high on his arm while her flimsy linen cleaned him. She made small, soft sweeps low, where his spine met his breeches. Her skirts brushed the backs of his exposed calves, something more intimate than their first dance. A wicked need to tease her struck, lightening his mood.
"I have a better idea for getting my back clean. It involves a copper tub, large enough for two."
The swiping slowed. Her hand on his arm lifted, and the loss left his skin cool.
Perhaps he went too far.
Then her palm rested on his ribs, settling there with discovery. The heat of each curious finger splayed provocatively on his flesh in a lover's exploratory touch. A heady rush followed, sending a pleasant burn over his already-hot torso.
"Whatever your plans in that copper tub of yours, I'm sure it's not safe for a woman like me." She said softly against his shoulder blade. "Though I'm sure you have some creative ideas."
Cyrus looked over his shoulder, her blond head close to his back. "Careful, Miss Mayhew, or you'll admit out loud you want more to happen between us."
~Meet Gina!~
Gina writes Viking and Georgian romance with a softly sensual side. She loves history, books and romance…the perfect recipe for historical romance writer. Her passion for castles and old places ---the older and moldier the better--- means interesting family vacations. Good thing her husband and two sons share similar passions. When not visiting fascinating places she can be found delving into the latest adventures in cooking, gardening, and chauffeuring her sons. You can find Gina on
the
web
, or to get all things Gina, subscribe to her monthly
newsletter:
Gina Conkle will be awarding a $25 Amazon or Barnes and Noble GC to a randomly drawn winner via rafflecopter during the tour.