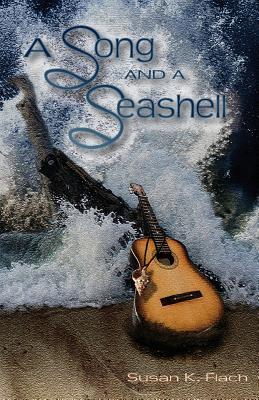 Title: A Song and A Seashell
Date Published: Ausgust 2013
Publisher: Ajoyin Publishing
Genre: YA Paranormal Romance
Source: Goddess Fish Blog Tours
Buy Me!

Bethany Kuiper is drawn to the ocean. She is 17 and never tasted love. Things are about to change. Summer in Rhode Island is just a vacation...until she meets Tristan Alexander. Everything seems perfect until two murders are committed in town. Much of the evidence points to Tristan. Distraught, Bethany realizes she is in love with Tristan. Will she be able to tread the water...or will she eventually drown.
~My Thoughts~
This book is an interesting one. You start out and you think it's just going to be another beachy romance read, but instead you find yourself all caught up in the paranormal and mysterious.
Bethany was a relateable character. She tries a bit too hard to fix her parent's marriage, but as a kid...they can be a bit overzealous. She's a bit torn up emotionally, and when she returns to the place where she first tasted...the other side...she is captivated by it and the island's secrets.
I found that most of the characters read as kind of vague. There would be good ideas, but little sustenance to justify them. I enjoyed what was laid out...but would have enjoyed it just a bit more with depth and a better understanding of who these people were...what motivated them...that sort of thing. The romance then was a bit on the weaker side at first-how can you love a couple when you barely know the two individuals?- but as the book went on I felt more and more attached to both Bethany and Tristan.
This was an enjoyable one. It's a quick read despite it's somewhat middling length. I flew from DC to Michigan and finished it during the plane ride so that was about 3 hours worth of a read :)
~Try an Excerpt!~
He stops. "Bethany…are you okay?"
Holy crap…what is wrong with me? I hug his sweatshirt to my body, and it begins to warm me, soothing away the tension. The salty, soapy smell that permeates it reaches my senses, calming me—the smell of him. I think back to a time, not very long ago, when I was so sure I could handle anything Tristan sent my way. I had handled everything he had sent my way—so far. But this. If there even was a this. Could I handle this? What implications would it hold for me if there was? Who was he really? Guiltily, I avoid looking at him.
"Really…I'm okay. Maybe I'm coming down with something." Lies. How many lies have I told today? How many lies has he told me? Maybe none. Maybe he was just omitting the truth about the kind of person he actually is.
~Meet Susan!~
Susan K. Flach has a bachelor's degree in English and works as an RN at the hospital. She lives with her husband and two children in Michigan. Reading, exercising, camping, and spending time with her family are some of her favorite things to do. A Song and a Seashell is the first book in her debut young adult romance series.
Susan K. Flach will be awarding a $20 Amazon/BN GC to a randomly drawn winner via rafflecopter during the tour.