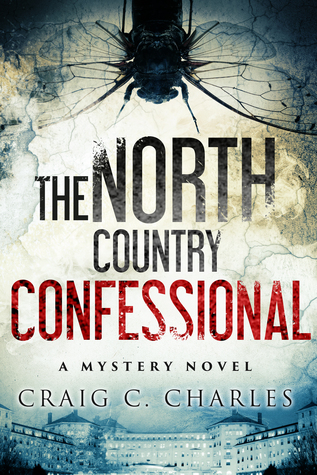 Title: The North Country Confessional
Date Published: December 12th, 2014
Publisher: North Country Press
Source: Goddess Fish Blog Tours
Buy Me!
Synopsis:
Family roots, teachings, and tradition permeate Darby Weeks's existence despite a decade's old decision to walk away from a life of privilege. They have given him the courage to survive under impossible conditions, but the most challenging of them all comes from an unexpected place: his return home. As heinous crimes peppered with riddles begin to plague the North Country, Darby's reappearance back home sparks an old rivalry between two families, releasing an evil to wreck vengeance upon everything around them. Darby's proposal of a truce between them not only fails to appease the rival family's thirst for retribution; it fuels it. The town of Bretton Woods lies between the two when old passions ignite and set forth new determinations to win an old struggle.

Reunited with an old flame and guided by a pompous blowhard, Darby sets out on a journey to learn the truth about his family's past and their ancient blood feud with the ruthless Marsh family. Darby's quest leads him all over New England, from the rare books library at Dartmouth College to Author's Ridge - the final resting place of the literary greats Thoreau, Hawthorne, and Emerson. Darby discovers a family he's never known and an insidious danger lurking in the arms of a rekindled love.
~My Thoughts~
North Country Confessional is a sweeping novel about family ties, skeletons in long buried closets, and the quest for self-discovery. There was a lot going on in the story, from the introspective thoughts to the puzzling mysteries. Imagination is a huge factor and you find yourself along for a fun ride that shouldn't seem to work but always ends up finding a way to work out!
Names were one of the more creative part of the story. From Pickford to Iscariot, to Darby, you never forget a cool moniker and this book is full of them. I think it also added to the cool tone that the book took on because it made the characters seem out there and interesting.
The timing and location of the setting was a bit vague. You really feel as though you could be anywhere in North America or Europe, and I wasn't altogether sure if the novel was supposed to be taking place now or sometime in the recent past (i.e...90's to the Aughts or possibly even eariler). While I could have used some more clues as to the setting and time, it did serve the purpose of keeping things vague and unsettling...kind of like Darby was feeling throughout the book I imagine.
Craig C. Charles has an unusual gift in his writing that lets you really visualize a character's movements. Whether it was a scurrying walk, the way they licked their lips, or some kind of noise they made when they spoke, you can really tangibly visualize these characters as if they were standing next to you, talking with all of these physical quirks apparent.
~Try an Excerpt!~
Pickford Marsh looked up at the heavens and scowled, covering his head just as the sky opened up and began to spit on him. He would rather be anywhere but here tonight. Dark water pelted his raincoat as he scurried toward the safety of the hotel's portico. Removing the spattered coat, Pickford reshaped his thinning comb-over which had been victimized by the wind; he started the long descent to The Cave.
The former speakeasy was one of the few places he didn't despise in this ancient relic of a hotel. It reminded him of the medieval dungeons of Europe where tormentors had worked their magic centuries ago. He smiled at the thought, revealing a mouth full of coffee-stained teeth and the stench of rotting flesh. Just wait, he thought to himself, you'll get what you deserve.
Pickford slithered into the dank room, moving quickly through the iron-gated doorway and into the private back room, near the bar. Taking a seat in one of the darker corners of The Cave, he blinked his eyes, trying to adjust to the darkness, then he checked his watch. He'd wait just five minutes before leaving.
The end of a cigarette glowed as a figure in the dark just across the table from Pickford began sizing him up. Squinting into the flickering shadows, Pickford searched for something familiar. He saw only a cold blackness that pursued him in his nightmares. He stood up, preparing to leave, when an arm reached out and violently slammed him back down in his chair. Startled by the force, Pickford began to plead, "I don't know who you are, but you've got the wrong —"
"Oh, Iscariot, I'm hurt," teased the voice. "After all we've been through, you don't remember me?"
Pickford's mind raced as he searched the confines of his memory, trying to make sense of the stranger's words. The arm pulled him in closer, threatening him with more violence.
"Perhaps this will jar your memory," the voice hissed, just before planting a deep wet kiss on his lips. "Sit back and listen closely. I'm going to tell you what you're going to do, for something wicked this way returns."
~Meet Craig!~
I'm a native New Englander. I grew up in the sleepy shoreline community of Madison, CT. After graduating from high school in the late 80's, I headed out West and spent a wonderful six years living in, exploring, and getting lost in the deserts of Arizona. After earning my B.S. from Arizona State University, I headed back East trying to find my path in life.
I found myself trying out MANY different careers. I learned the art of audio engineering and worked at a major recording studio in Manhattan for a while. I learned the nuances of fine wine from a wonderful South African man and sold libations in his high-end store. I sold power transmission equipment as a manufacturer's rep in the Northeast. Next I ventured into the publishing world when I signed on with Yankee Magazine working in their Community Partners Program. It was here at Yankee's headquarters in Dublin, NH that I fell in love with the art of writing and beauty of the Great North Woods of New Hampshire. I met tremendous people and embarked on my own quest to write an engaging mystery novel set in New England. However, I couldn't ignore the internal pull I felt to work with young people. I went back to school and earn a Masters of Education degree and embarked on a career as a special education teacher working primarily with autistic children. This has been my main profession for the past 14 years as I continued to write and work towards mastering the craft of writing. I love the creative process of writing and editing.
In short, I'm a life long learner who continues to absorb all I can about the world around me.
Craig will be awarding a $15 Amazon or B/N GC to a randomly drawn winner via rafflecopter during the tour, and a $10 Amazon or B/N GC to a randomly drawn host.