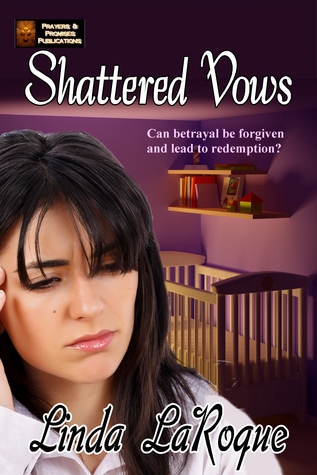 Title: Shattered Vows
Date Published: November 17th 2014
Genre: Contemporary Fiction
Source: Goddess Fish Blog Tours
Buy Me!
Synopsis:
A mother, confronted with her husband's infidelity, must decide whether to help raise his child or end her marriage.

Annie and Stuart Rayburn have loved each other since high school. Their life is idyllic until their baby dies of SIDS, and Annie falls into a deep depression. Months of therapy help her recover, and they look forward to another child sometime in their future.

Despite his own grief Stuart tries to comfort Annie, yet when he reaches for her in the night, his advances are rebuffed. In a moment of weakness, he turns to another woman. Stu learns his night of infidelity produced a baby girl. The mother died in a car crash, and her will gives Stu custody.

Stu can't deny the child is his, and he's determined to raise her. He begs Annie's forgiveness. Hurt and angry, Annie must face her demons, decide if she can forgive Stu, and love the innocent child, or divorce him and move on without the only man she's likely to love.
~Try an Excerpt!~
Stewart tossed his suitcase into the trunk and hung the garment bag on the hook in the backseat of his Lexus. He'd just opened the driver's side door and slid into the seat when he heard something hit the glass inserts of the entry door of the house and shatter. He slammed the door and started back toward the house fearing Annie had hurt herself, but stopped in mid-stride. She wouldn't welcome or want his help. Hell, she probably didn't ever want to see him again.
In the front seat, he started the car, turned the radio up and the air on. Gasping for breath, hands gripping the steering wheel, he dropped his head to the leather and howled in despair. He'd lost the only woman he'd ever loved. She'd been his first lover, and he hers. He cried for all the joyous moments in their lives and the disappointments and losses—the death of both their fathers and then of Emily Ann.
Great heaving tremors wracked his body, his loud sobs softened only by the thundering music blaring from the radio. Finally drained, he raised his head and wiped his face with one of the tissues Annie kept in the console. He couldn't sit here and mourn. He had to get ready for a baby, and he no longer had a home.
~Meet Linda!~
Linda LaRoque is a Texas girl, but the first time she got on a horse, it tossed her in the road dislocating her right shoulder. Forty years passed before she got on another, but it was older, slower, and she was wiser. Plus, her students looked on and it was important to save face.
A retired teacher who loves West Texas, its flora and fauna, and its people, Linda's stories paint pictures of life, love, and learning set against the raw landscape of ranches and rural communities in Texas and the Midwest. She is a member of RWA, her local chapter of HOTRWA, NTRWA and Texas Mountain Trail Writers.
Linda writes contemporary western romances, time travel romances and futuristic romances. Shattered Vows is her first Inspiration Women's fiction.
Linda will be awarding three individual prizes to randomly drawn winners via rafflecopter during the tour:
1st prize—sterling charm bracelet w/ baby theme and a handmade wood jewelry box
2nd prize—a handmade wooden shawl pin and an ecopy of Shattered Vows
3rd prize—an ecopy of Shattered Vows