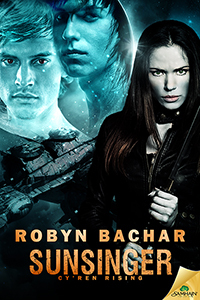 Title: Sunsinger
Author: Robyn Bachar
Series: The Cy'ren Rising #3
Pages: 231
Date Published: December 31st, 2014
Publisher: Samhain Publishing
Format: ebook
Genre: Fantasy
Source: Goddess Fish Blog Tours
Buy Me!
Synopsis:
The sole survivor of the Sunsinger massacre, Lord Degalen Fairren spends his days reading tales of the family he never knew. When a rival house threatens to enslave Cyprena, Galen is forced to pull his nose out of his books and enter into an alliance with House Morningstar, and a dangerous mission to save his world.
Lady Andelynn Harrow isn't House Morningstar's eldest or prettiest daughter, but she is the deadliest. After her father's murder, Andee must defend her new house and mate-the shy, reluctant Galen-but every battle risks revealing her terrible secret.

Malcolm gets his first taste of freedom when the Cy'ren recruit him to locate the cure to a deadly virus-and feels the burn of desire for Galen, the lord he can never have, and for Andee, who awakens memories of a long-lost first love. The danger they face fuels the heat between them, but with Cyprena's fate hanging in the balance, the race to find the cure could come with devastating costs.
~Guest Post!~
Thanks for having me today, and Happy New Year! In honor of the holiday, I decided to share the top five New Year's resolutions of Malcolm, the absent-minded hacker hero of my erotic space opera romance Sunsinger.
Malcolm's New Year Resolutions
1. Remember to eat three meals a day. Because I need to be self-sufficient, and I can't rely on other people to bring me food while I'm working on a research project like I used to. Well, I could rely on someone else, I suppose, if I hired a housekeeper or a valet of some sort, but I don't have any credits to pay them with. So self-sufficiency is the way to go.
2. Remember to charge customers for information. If I'm going to be an independent information broker, then I should be paid for my efforts. I mean, it's nice to help the Cy'ren resistance because I completely relate to their fight for freedom, but "nice" won't pay my bills. (Do I have bills? I should look into that.)
3. Find a new place to live. I can't go back to the Jump Station, because it was blown up by mercenaries. It might be nice to live in Alliance space, but I don't know what I'd do there. I like Cyprena so far, and it could be okay to live here. I'd just need to remember a few rules…
4. Don't flirt with Andee. I mean with Lady Andelynn. Sigh. I'm never going to remember that… Andee's beautiful and amazing, but she's some kind of Cy'ren royalty and I'm sure that means she isn't allowed to have anything to do with me.
5. Don't flirt with Galen. I mean with Lord Degalen. Dammit, why are Cy'ren names so hard? Anyway, I definitely must not flirt with Lord Degalen, because he is also Cy'ren royalty and apparently Cy'ren aren't okay with males having relationships with each other. Which means I should not ever kiss him again, even though it was a pretty great kiss…
~Try an Excerpt!~
"Outer door open," Loren announced.
The ship's thrusters kicked into full power and the Talon II shot through the portal, spurring the ship's song from a steady adagio to an allegro. The Talon II turned and accelerated into the nearby ruins for cover as their sensors scanned the ships in orbit. Twenty large ships, and three squadrons of one-man fighters.
"Malcolm," Galen said, his voice calm but stern.
"Right, right. Infiltrating Syndicate communications network." Malcolm pinged the orbiting ships, searching for ways past their security. They identified as mercenary ships, each with variations on Syndicate programming. Piece of cake. Malcolm had been cracking Syndicate codes since he was ten years old, even before he'd become a data miner with an uplink jack planted at the base of his skull.
"Enemy fighters have scrambled and are moving on our position," Loren warned.
"Acknowledged, Lieutenant," Captain Hawke said. "I'm keeping the weapons' power diverted to shields and engines. We'll try to outrun them as long as possible."
"Morningstar squadron is holding in escort formation," Andee said. The captain had allowed her on the bridge to monitor the fighters, but Malcolm wished she could have sat with him. Andee had a knack for keeping him calm.
Closing his eyes, Malcolm filtered their conversation out, trusting the crew to their business as he focused on his. He zeroed in on the lead ship as his entry point to their network, and then began picking at its security code like plucking at the strings of a harp, trying to find the right melody.
~Meet Robyn!~
Robyn Bachar enjoys writing stories with soul mates, swords, spaceships, vampires, and gratuitous violence against the kitchen sink. Her paranormal romance Bad Witch series, historical paranormal romance series Bad Witch: The Emily Chronicles, and spicy space opera romance trilogy Cy'ren Rising are available from Samhain Publishing. Her books have finaled in PRISM Contest for Published Authors, the Passionate Plume Contest, and twice in the EPIC eBook Awards.
As a gamer, Robyn has spent many hours rolling dice, playing rock-paper-scissors, and slaying creatures in mmorpgs.
Twitter - http://twitter.com/RobynBachar
Blog - http://therobyn.blogspot.com/
Facebook - https://www.facebook.com/AuthorRobynBachar
Google+ - http://google.com/+RobynBachar
Goodreads - http://www.goodreads.com/iamtherobyn
LibraryThing - http://www.librarything.com/profile/RobynBachar
Shelfari - http://www.shelfari.com/robynbachar
Amazon - https://www.amazon.com/author/robynbachar
Robyn will be awarding a $25 Amazon or B/N GC to a randomly drawn winner via rafflecopter during the tour, and a $10 Amazon or B/N GC to a randomly drawn host.