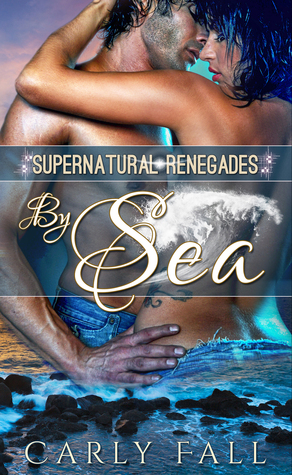 Title: By Sea
Series: Supernatural Renegades #1
Date Published: October 11th 2014
Publisher: Westward Publishing
Genre: Paranormal Romance
Source: Goddess Fish Blog Tours
Buy Me!
While fighting the War on Drugs in Latin America, Marine Brody Teller was involved in an accident that left him with a supernatural power: a deep connection to the sea and the ability to control it.

When the mysterious Joe Smith approaches him with an incredible job offer, Brody thinks it's too good to be true. His life-saving need and his desire to be near the ocean while earning a living are rolled into one perfect job.

Rayna Lopez lives a quiet life as she tries to climb her way up the CIA ladder, always in fear the government will learn of her family lineage. When her father asks for help getting her famous and belligerent half-sister out of trouble, Rayna reluctantly agrees to travel with her and they board a yacht where they will be protected.

Brody and Rayna realize they've met before, and despite a significant lack of trust between them, they face an attraction neither can deny. As they fight to keep Rayna's sister alive, lies are revealed and secrets are told. They must both learn to trust each other, and—if they live through their voyage—figure out what to do about their whirlwind romance.
~My Thoughts~
While fighting with the Marines, Brody suffered an accident that leaves him, more or less, as Aquaman. Okay, he doesn't really have Aquaman's powers, but he can manipulate the sea and water which is pretty awesome. Maybe he's a long lost water-bender and will become the next avatar? (Sorry...my nerd is showing...) He's not sure what to do with these powers, and tries to keep himself out of the thick of things, but then gets a job offer he can't refuse.
Rayna (awesome name by the way) was a pretty great female character. She's really someone you can feel for and understand. She gets understandably pissed when Brody acts like a dumb jackass, and then she calls him on all of his crap when he needs that. Woo woo! I love an Alpha Male, and Brody is one of the most Alpha, He-man, brains and brawn kind of guy I've seen in a while! He does have a bit of that traditional brash to the brawl . .
Margarita on the other hand, was not my favorite kind of person. She's snobbish, vapid, and just generally annoying, making me want Brody and Rayna to just throw in the towel with her and be like...girl, you are on you own!
By Sea definitely caught my interest. It's vaguely paranormal, but lacks the mythological background of creatures such as vampires and werewolves, making it utterly unique and original.
~Try an Excerpt!~
Charlie looked left and right, and then scrambled to his knees in front of Brody. "Can you do it?" he whispered. "Please? Just one quick one before I head home?"
Brody smiled and glanced around, making sure they were truly alone. "A small one, Charlie, and you've got to promise me again you won't tell anyone."
Charlie smiled, and Brody noticed it looked as if the kid had lost another tooth. "I promise, Brody!"
Brody set his coffee cup down in the sand and spun his left index finger in a counter-clockwise rotation. About thirty seconds later, a small funnel of water appeared at the ocean shore. Brody continued to spin his finger, and the water tornado grew larger, the sea whipping around faster and faster until it stood about five feet in the air. Just beyond the funnel, the dolphins jumped in the waves, screeching as if they were cheering him on, urging him to make the cone larger.
Charlie's eyes danced as he watched the small show.
Brody set his hand in his lap, and the funnel slowly disappeared, but the dolphins continued to play in the surf.
"That's so awesome!" Charlie exclaimed.
Brody nodded, not sure he agreed with that assessment. Before the accident in Guatemala, he hadn't been able to cause water tornadoes and make dolphins dance in excitement, and the worst part was that no one seemed to be willing or able to offer an explanation of why this was now part of his make-up.
~Meet Carly!~
Carly Fall is a wife, a mother and a slave to the dog, Nicky. She loves to laugh, thinks chocolate and wine should be considered their own food group, and wishes Christmas happened twice a year. She is the author of the award winning and Amazon best selling series, the Six Saviors, as well as paranormal and contemporary romance. By Sea is the first book in her new series, the Supernatural Renegades.
Facebook: http://www.facebook.com/carlyfallpage
Carly will be awarding a $15 Amazon or B/N GC to a randomly drawn winner via rafflecopter during the tour, and a $15 Amazon or B/N GC to a randomly drawn host.