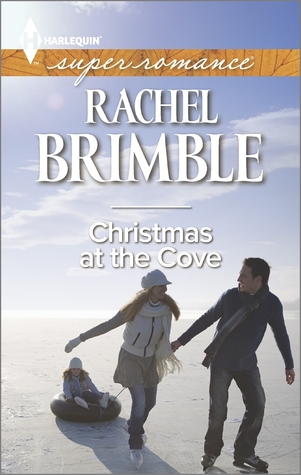 Title: Christmas at the Cove
Author: Rachel Brimble
Series: N/A
Pages: 384
Date Published: November 4th 2014
Publisher: Harlequin
Format: Paperback
Genre: Romance
Synopsis:
More family for Christmas?
Scott Walker doesn't have time for a relationship. The sexy mechanic has career ambitions, not to mention a mother and three sisters to take care of. The last thing he needs is Carrie Jameson, the beauty he never forgot, arriving in Templeton Cove over the holidays with some unexpected news.
Scott still finds Carrie irresistible, and he's not one to shirk responsibility. Scott's issues with his own dad make the prospect of parenthood a minefield. But if he and Carrie can overcome their fears, this Christmas could bring them the best gift of all.
~Guest Post!~
Writing for Harlequin Superromance …
I have been writing romance since 2005, steadily chipping away and learning my craft over the last nine years. Each book I've had published and each editor I've worked with has taught me something to take forward into the next project. I have had no formal education or tuition for my writing, but have enrolled in many online courses and made lots of invaluable friends who have helped me on my journey.
All the rejections (there have been MANY!) and disappointments, frustrations and tears were all made worthwhile during 2012 when my dream of writing for Harlequin came true. I wrote
Finding Justice
from the heart and of course, hoped and prayed an editor would love it as much as I did. However, nobody could have prepared me for the shock of receiving an email from my agent saying Harlequin loved the book but would I consider some minor revisions?
Would I?? Hot damn, yes! I set to work and made the relevant changes that I immediately understood made the book stronger. These done, I sent them back and three weeks later, I was offered a contract. Woohoo!
By the time I sent FINDING JUSTCE out into the big, wide world, the setting of Templeton Cove had become very dear to me and I soon realized I wasn't ready to let this small fictional UK seaside town belong to just one book. Would Harlequin consider more books set in the same town? There was only one way to find out. I feverishly wrote a sequel and A MAN LIKE HIM was accepted by my Harlequin editor six months later.
The cast of characters continues to grow and with each book I write in the series, more and more potential stories evolve from the secondary characters that leap into my imagination. I am thrilled to say in May this year, Harlequin offered me a further three-book contract, which means Templeton Cove continues to flourish with book three, WHAT BELONGS TO HER (Mar 2014) and now book four, my latest release, CHRISTMAS AT THE COVE!
I often get asked what the secret is to breaking into Harlequin – my answer? The only aspect I am one hundred percent sure of is the Harlequin brand thrives on emotion. Emotion, emotion, emotion! Make sure the reader can feel what's going on inside every character on every page and I'm pretty confident you'll hook an editor. Good luck!
~Try an Excerpt!~
She glanced around the garage. "I'm sorry to turn up unannounced like this, but I'm here and we need to talk."
He stared at her in disbelief as questions, demands and weaknesses hurtled around inside him, battling with the intense sexual frustration storming through his body. "Just like that, you turn up and say, 'We need to talk'?" He shook his head and turned away from her, lest he get caught in the snare of her wide, impossibly gorgeous eyes. "Go away."
"No."
Keeping his back to her, he uncrossed his arms and planted his hands on his hips. He tipped his head back and smiled as insanity rushed his bloodstream. He wanted to grab her, shake her, kiss her and make love to her. God, he wanted to drop to his damn knees in front of her and beg her to tell him where she'd been and now she was back, was she back for good?
"Scott?"
He closed his eyes, barely resisting the urge to cover his ears with his hands and block out her tempting voice, achingly laced with the unmistakable sound of a plea. "Whether you want to see me or not, I have to talk to you, and I won't leave the Cove until you hear me out."
Her heels clicked closer and his body tensed, waiting for what came next. The dangerous, musky scent of her perfume wafted under his nostrils and he inhaled. She approached the bench beside him and put down a business card. "My number's on there. I'm staying at the Christie. Call me when you're ready to talk. It's important or I wouldn't have come."
He glanced at the card. Carrie Jameson. Producer.
She turned and walked away. He let her go, feeling like a smashed up car after a hurricane, tossed and turned through the air before being spewed crudely across the highway, left to rust and burn.
He picked up the card. His hand shook and the rare sting of tears shamed him. What the hell was he supposed to do now? Carrie was back and his libido told him only too clearly there was no way in hell he wouldn't go to her. How was he supposed to let her go a second time when he'd lived the last three years regretting he didn't stop her the first time?~Meet Rachel!~
Rachel lives with her husband and two young daughters in a small town near Bath in the UK. After having several novels published by small US presses, she secured agent representation in 2011. In 2012, she sold two books to Harlequin Superromance and a further three in 2013. She also writes Victorian romance for Kensington--her debut was released in April 2013 and she has since signed for three more.
Rachel is a member of the Romantic Novelists Association and Romance Writers of America. When she isn't writing, you'll find Rachel with her head in a book or walking the beautiful English countryside with her family and beloved black Lab, Max. Her dream place to live is Bourton-on-the-Water in South West England.
She likes nothing more than connecting and chatting with her readers and fellow romance writers. Rachel would love to hear from you!
Website: http://rachelbrimble.com/
Blog: http://rachelbrimble.blogspot.co.uk/
Twitter: https://twitter.com/RachelBrimble
Facebook: http://www.facebook.com/pages/Rachel-Brimble/181873201887441?fref=ts
Rachel will be awarding a $20 Amazon GC to a randomly drawn winner via rafflecopter during the tour.
a Rafflecopter giveaway