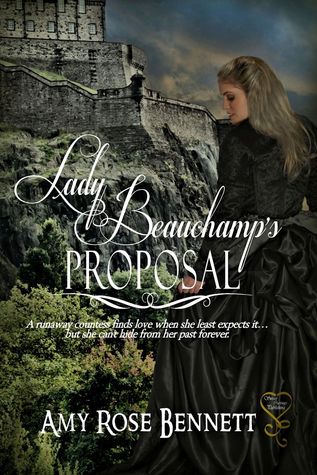 Title: Lady Beauchamp's Proposal
Date Published: August 6th, 2014
Publisher: Secret Cravings Publishing
Genre: Historical Fiction
Source: Goddess Fish Blog Tours!
A runaway countess finds love when she least expects it…but she can't hide from her past forever. Elizabeth, Lady Beauchamp, fears for her life. When she discovers her dissolute and long-estranged husband has syphilis—and he wants to beget an heir no matter the cost—she flees to a remote part of Scotland to begin a new life as the widowed governess, Mrs. Beth Eliott at Eilean Tor Castle.

When Mrs. Eliott unexpectedly arrives on his doorstep, the reclusive and recently widowed Marquess of Rothsburgh is both irritated and intrigued. No longer in need of a governess—his young daughter now resides with his sister's family in Edinburgh—he proposes the beautiful widow fill a position of a different kind…Torn between staying true to her marriage vows and her wanton attraction to the devilishly handsome marquess, Elizabeth struggles against the temptation to become his mistress. But living a lie is not easy when you have fallen in love. And secrets always have a way of coming out…
~My Thoughts~
Lately, I have been VERY much invested in getting my hands on some good historical fiction. Thank GOD that Lady Beauchamp's Proposal was one of them! As an editor specializing in period pieces, read a lot of historical fiction. A TON of it. Yet I found the storyline of Lady Beauchamp's Proposal to be uniquely different from most anything you will find in the genre, which I appreciated immensely. While any historical fiction that follows conventional means may be good, it takes unique qualities, superb characterization, and an unexpected plot line to make me bump it up to the level of "keeper shelf GREAT". Guess what. Lady Beauchamp made it!

Beth (Elizabeth) has successfully lived the dream of hundreds of young girls of the ton. She has navigated her season after "coming out" and landed herself the cream of the crops in the dashing good looks, charming smiles, and wily ways of the most sought after bachelors of her generation. A wonderful wedding sent her off happily into ever after...or so she thought. Instead of learning of the wonders of marriage, she has only learnt of the cruelty and anger that can exist in a man, and the brutal punishment that speaking her own mind can bring. With a husband drunk on wine, gambling, and the lady-bits of whores...Beth has been thoroughly disillusioned to the idea of marriage. If that isn't bad enough, her husband's antics are making their way through the rest of the upper class, leaving Beth the butt of very unfortunate gossip that sends her into a state of embarrassment.

Beth's salvation comes from a very unexpected place: one of Hugh's mistresses. A dire warring in the form of a letter arrives and informs Beth that her husband has a deadly infection-syphilis. Afraid that she wouldn't be able to deny her husband his rights to her body but not wanting to be killed by the infection of Hugh's affairs, she flees in a dramatic fight or flight moment. (this was cool...but I was rather annoyed at how the reveal was painted. For a long time into the book we aren't sure what exactly happened the night Beth flees...only that her husband was looking to get lucky and then she ran away to Scotland). As she searches for a safe haven, she runs into our dashing hero and the REAL man of the book...James of Rothsburgh! Yes! Que the sexy-rugged- Scottish hero!

James is a loner...he kind of reminded me of Beast locked up in the castle in Beauty and the Beast. He's got the mood swings and the angst down, that's for sure. Of course, with brutal PTSD (although it's not called that yet...)from his army days and the lingering pain of a dead wife, I believe that James is entitled to his angst and suffering. The tension and chemistry between Beth and James is awesome. I found myself alternately giggling and swooning and further irritating my boyfriend by insisting that he speak in a Scottish accent. Beth struggles to keep her marriage vows despite having a true ass of a husband...and of course..who can resist in the face of such hawtness?

Historical fiction tends to focus on the beautiful and glamorous ideals of whatever time period it embodies. Rarely do you find the nitty gritty details like STDs and spousal abuse. This made for a unique, and very intriguing story. I honestly couldn't stop reading and made my man pretty irritated when I rebuffed his advances in the face of a particularly riveting chapter. Give Lady Beauchamp's Proposal a chance. You're going to love it :)
~Try an Excerpt!~
Harcourt House, London, September 1815
Elizabeth sat before her cherrywood dressing table, determinedly brushing her hair with slow methodical strokes, trying in vain to relax. The simple routine always used to be soothing, a balm to her taut nerves.
But not anymore.
Especially not tonight.
The grandfather clock in the hall outside suddenly heralded the hour. Midnight.
With a shaky sigh, she placed the brush upon the silver tray and glanced at her candle-lit reflection. A grave young woman stared back at her; shadows as dark as bruises marred the usually pale skin beneath her grey eyes. She was so tired. And so anxious, she felt as brittle as a dried-out birch twig that was going to snap at any moment.
But she couldn't break now. All going well, in six hours she would be gone from here in a hired cab that was scheduled to arrive in the mews behind the servants' entrance where her travelling trunk had been carefully stowed. Despite her fatigue, she doubted that she would be able to sleep at all between now and then.
There was too much at stake.
The unexpected sound of her bedroom door opening made her start. In the dark shadows behind her, the reflection of her husband's tall, lean frame appeared. He paused on the threshold and by the way he leaned against the door frame it was obvious that he was drunk—not an unusual circumstance for this time of night. Elizabeth knew that he'd probably spent the best part of the evening at his club or some gaming hell. But what was unusual, what caused her heart to hammer against her breast, was the fact that he had come to her room at all.
Hugh hadn't entered her bedchamber for more than a year.
She tried to read his expression, judge his mood. Desperately tried to fathom what could have prompted this unexpected nocturnal visitation. But Hugh's blue eyes, indeed the sculpted planes of his entire face, were hidden in shadow.
"Elizabeth." Pushing away from the door, he prowled toward her bed, then sank onto the pale blue silk counterpane with a heavy sigh. The lingering odor of port and stale cigar smoke assailed her, but she forced herself to remain still, as she watched—and waited, her stomach cramping with fear. It made no sense at all that he had come to her, instead of seeking out the more titillating company of his latest mistress or at the very least a prostitute—his usual custom at this late hour.
Unless…Does he know what I have planned?
Despite her rising panic, Elizabeth was suddenly struck by the realization that her husband was uncharacteristically maudlin. Turning to face him, she was acutely conscious of the fact that she only wore a thin, white cotton nightrail. Although it buttoned all the way to her throat and had long sleeves, she felt vulnerable. Exposed. It bothered her that her feet were bare.
But she couldn't afford to show any weakness.
"Are you all right, my lord?" she asked carefully, forcing the words past her tight, dry throat. It seemed safer than asking—what do you want?—or—are you here to stop me leaving you? She hoped to God he hadn't uncovered her secret. She must tread carefully. Her life depended upon it.
~Meet Amy!~
Amy Rose Bennett has always wanted to be a writer for as long as she can remember. An avid reader with a particular love for historical romance, it seemed only natural to write stories in her favorite genre. She has a passion for creating emotion-packed—and sometimes a little racy—stories set in the Georgian and Regency periods. Of course, her strong-willed heroines and rakish heroes always find their happily ever after.
As an unpublished author, Amy has been a finalist in contests in both Romance Writers of Australia and Romance Writers of America. In 2013 and 2014, she has achieved a place in the top three of Romance Writers of Australia's Emerald Award, and her debut Regency romance novel—'Lady Beauchamp's Proposal'—was the winning entry in the historical section of two Romance Writers of America Chapter Contests in 2013—the Chicago North Fire and Ice Contest and the San Francisco Heart to Heart Contest.
Amy is happily married to her own Alpha male hero, has two beautiful daughters, a rather loopy Rhodesian Ridgeback and a Devonshire Rex cat with attitude. She is a Speech Pathologist, but is currently devoting her time to her one other true calling—writing romance.
Amy will award a $25 Amazon GC and digital copy of her book to a randomly drawn winner via rafflecopter during the tour.
a Rafflecopter giveaway