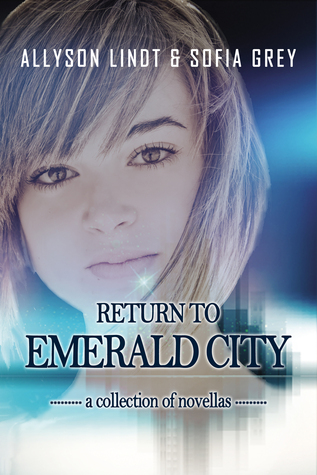 Title: Return to Emerald City
Author: Sofia Grey, Allyson Lindt
Date Published: October 14th 2014
Genre: Speculative Fiction
Source: Goddess Fish Blog Tours
Dorothy's Red Shoes
There's no place like home…
Dorothy is already feeling homesick for Emerald City, and wonders if taking a job halfway around the world was a mistake. When her love life crumbles–again–will she run for home?
His Replay Girl
If he only had the nerve…
Ten years ago, Quinn made the best choice of his life, and the biggest mistake. It's true, his band, Lionheart, is one of the biggest in the world, but how much does it mean if he can't tell the woman he loves how he feels?
His Reboot Girl
If he only had a brain…
Scott woke up with his head spinning and not much else going on up there. Now he's a suspect in a terrorist plot, and on the run. One woman insists she's the key to his past and his freedom. Too bad he doesn't remember her.
His Rewind Girl
If he only had a heart…
Cam is as much machine as man. There are days he loathes the CyGes implants that saved his life but couldn't do the same for his family. They replaced his limbs, but now he needs someone to mend his heart.
~Try an Excerpt!~
"Ready?" Ben smiled when I turned to him "We can sit anywhere." He held out his hand, but I stood frozen. Now I was here, I felt sick. I normally avoided big, noisy parties like this. Why had I come? Oh, yeah. Because I wanted to impress Matthew, and I wasn't going to do that if I continued to lurk out here. I shoved down my fear, clamped a temporary lock on my social ineptitude, and with a grateful smile, slipped my hand into Ben's. His palm was warm, smooth and dry. He laced our fingers together and gave me a quick squeeze.
I nodded. I could do this. "Let's go." The words came out in a strangled voice, and Ben flashed me a smile. Heel, toe, heel, toe. I repeated the mantra in my head, and managed to walk beside him without tripping over my own feet.
A sultry jazz singer warbled softly from the stage, and wait staff flowed around the room, carrying trays stacked with canapés. In one corner, a magnificent Christmas tree reached the high ceiling, glass baubles reflecting a copious string of flashing lights. My beautiful shoes pinched already, but that was just because they were new. All the same, I didn't want to walk too far, and I happily sank into the first seat Ben found. It was an ideal position. From here, I had an excellent view of the entrance; I could see everyone who came and left.
~Meet Allyson and Sofia!~
Romance author Sofia Grey spends her days managing projects in the corporate world and her nights hanging out with wolf shifters and alpha males. She devours pretty much anything in the fiction line, but she prefers her romances to be hot, and her heroes to have hidden depths. When writing, she enjoys peeling back the layers to expose her characters' flaws and always makes them work hard for their happy endings.
Allyson Lindt is a full-time geek and a fuller-time contemporary romance author. She prefers that her geeky heroes come with the alpha expansion pack and adores a heroine who can hold her own in a boardroom. She loves a sexy happily-ever-after and helping deserving cubicle dwellers find their futures together.
Allyson and Sofia will be awarding a $10 Amazon GC to a randomly drawn winner via rafflecopter during the tour, and a $15 Amazon GC to a randomly drawn host between this tour and the Excerpt tour.
a Rafflecopter giveaway