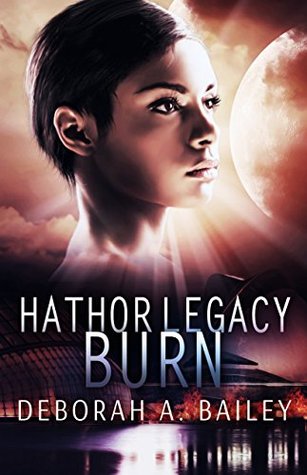 Title: Burn
Date Published: July 16th, 2014
Publisher: Bright Street Books
Source: Goddess Fish Blog Tours
Buy Me!
On the planet, Hathor, an old threat re-emerges that may destroy the fragile alliance between the Guardians and Novacorp. When Nadira is called to investigate a rash of fires throughout the city, she discovers the Deshtu, another group with PSI powers who have been purposely kept in the shadows.

Working to uncover the source of the fires, Nadira learns the brutal truth about the origin of the Guardians. The Guardian Elders have plans to make Nadira more powerful, and she may be forced to sever her psychic connection to Jonathan Keel.

When an unexpected ally gives Jonathan information about the Deshtu that connects them to the fires, he becomes a convenient scapegoat for the opposing factions. Nadira puts her life on the line to solve the crime, while the Elders make their move to remove Jonathan from her life forever.

As time runs out, the Guardians prepare for a clash with Novacorp that could plunge the planet into chaos, and a final betrayal forces Nadira to risk everything to save herself and Hathor.
~Guest Post!~
Writing Love Scenes
For the most part when I wrote short stories, I didn't include love scenes. Romance and flirting, yes. Sex, nope. If my stories had romance, it was a side thing. I'd mention it and hint at what happened between the characters, then move on.
But when I wrote my first novel, Hathor Legacy: Outcast, I found myself in a bit of a dilemma. It's a romance, isn't it? So I knew at some point, the heroine/hero would have to get busy. These days so many stories seem to be in the erotica camp, even when they're not officially erotica. Going all the way is expected. But how far? That was my question.
Since I'd just started getting to know the characters, I didn't feel comfortable having them get together too fast. But even though I waited until halfway through the book, I still had a reviewer say it might've been too soon. Well, maybe. It can be hard to tell when to get the hero and heroine paired up. It is a romance, isn't it? At some point, they'll have to have a love scene.
But whenever it happens, it shouldn't feel forced. Once I decided how explicit I wanted to get, it got easier. Instead of doing endless "insert tab a into slot b" descriptions, I looked for descriptive words that could set the mood without my having to actually describe the blow-by-blow. Here's an example from Hathor Legacy: Burn.
"Above the roar of the waves crashing, so much louder in this corner of the beach, he heard her moans. Fueling him to his own explosion he held himself back, wanting to take his time on his task."
I'm not describing any body parts or explicitly describing actions. But words like roar, crashing, fueling, explosion, make a strong impression. They drive up the tension and the reader has a reaction to them, even if they're not fully aware of it.
Words are powerful. They paint images and stir up emotions. I want to show what's happening, while at the same time I want to stay within what I think is appropriate for that story. When I write these scenes, I try to stay true to what I feel works at that point. The characters will let me know when they're ready, and that will make the scene much easier to write.
~Try an Excerpt!~
"I don't believe in old stories, Nadira. Whatever they think they can accomplish, it won't work. But I mustn't criticize Elder Dakar even if I feel that some of his actions are questionable," Mikal said.
"Are you going to tell me what you mean by that?" Nadira asked. "What has he done?"
Mikal looked off in the distance. "Your transport is coming."
"You're not going to answer me, are you?"
"I'm his assistant and it's not my place to say anything against the Elder," Mikal said, as he glanced back down the street. "But I know that he will do everything in his power to force you to comply with him."
"Force me? None of them can force me to open myself up to them. That would be a violation."
The transport trundled up the street and pulled over to the curb. It stopped and the door swung back with a hiss.
"Yes, it would be, Nadira. But they're desperate and afraid of what Novacorp may do to us. And desperate people can do violent things." He reached out and ran his hand along her cheek.
His touch was like fire against her skin, searing her with his open desire. Startled she jumped back and stumbled as she tried to stay on her feet. "Mikal, don't. I have to go." Brushing past him, she climbed into the vehicle and moved to the opposite side of the seat. Sitting there huddled in the corner, she felt vulnerable, like cornered prey.
"I'm sorry if I was too forward, Nadira," he said, leaning into the cabin. "My emotions overpowered me."
~Meet Deborah!~
As a little girl when Deborah A Bailey was watching Star Trek and Twilight Zone, she was writing and drawing her own superheroine comics. When she grew up, she continued to write and followed her love of technology into a career as a computer programmer and developer. But writing was never far away from her heart, so over the years she wrote and published stories set on other worlds and in Earth's future. Ultimately she fulfilled a lifelong dream and completed her first novel in the Hathor Legacy universe, Hathor Legacy: Outcast.
Her short stories have won awards from the Philadelphia Writers' Conference and her work has been published in US1 Magazine and the Sun. In 2013 she published a short story collection, Electric Dreams: Seven Futuristic Tales. In her "other" life, she's a freelance writer who's published three non-fiction books and countless articles that have appeared in print and online. Visit her blog for writing tips, interviews and updates. http://www.BrightStreetBooks.com
Deborah will be awarding a free print version of Hathor Legacy: Burn to three randomly drawn winners via rafflecopter during the tour (US ONLY), and a Grand Prize of a $45 Amazon GC to a randomly drawn winner via rafflecopter during the tour.
a Rafflecopter giveaway