Happy Monday Everyone! Welcome back to our wonderful world of Steampunk Adventures. To start the week off right, I've got a special guest here on the blog to share why Steampunk is such a diverse and amazing genre that everyone can enjoy! Please welcome Jude Morrissey AKA The Steampunk Gypsy!
~~~~~~~~~~~~~~~~~~~~~~~~~~~~~~~~~~~~~~~
Steam-Powered Appeal: Why Steampunk is for Every Reader
by Jude Morrissey, Steampunk Gypsy
The imagery is evocative: proper Victorian or gritty Wild West settings, embellished with advanced steam technology, powerful airships, deep sea monsters, and analytical engines sifting large quantities of data. The original genre, best described as speculative fiction, has segued into movies, music, art, and fashion. It has gone from literary expression to personal lifestyle, as fans dress the part and meet together in celebration of the motif. But Steampunk started with the written word
–
and that's what I'm here to talk about.
We now find Steampunk literature in a very interesting stage of development, as clockwork tendrils wind their ways into other genres and take root, with interesting results. Analytical engines tick away in the Wild West, adventurers battle aliens on militarized airships, and proper Victorian ladies fight off soulless monsters and suitors alike...it seems every branch of popular fiction is eager to hitch a ride in our steam-driven horseless carriage. It
'
s a great time for readers!
If you
'
ve heard about Steampunk and are interested in trying it out, the best way is to start with a genre you already like. For instance, if you like Romance, try a Steampunk Romance. Remember, however, that fluidity is now a hallmark of Steampunk - you
'
re bound to find some Alternate History and/or Science Fiction and/or Fantasy mixed in with whatever genre you
'
re used to.
Veteran Steampunk fans may want to broaden their horizons, as well, exploring genres they
'
re not commonly interested in. Outside Steampunk, I read quite a bit of Science Fiction and Fantasy, but haven
'
t been particularly drawn to Romance or Westerns. Steampunk has offered me the opportunity to sail into deep waters I wouldn
'
t normally visit - and I
'
ve loved it.
What if you aren
'
t an avid reader, and don
'
t relish the idea of 500 pages of text? Short stories and graphic novels are great ways to dig into Steampunk literature. They
'
re also great ways to pass a lunch hour or relax for an hour or two after work.
So, how do you get started? Let's Get Steamy! is a great place to begin. Guest posts and reviews by aficionados, artists, and authors are invaluable resources. Finding some Steampunk blogs that provide reviews (and often book giveaways) are also wonderful avenues of discovery. Other readers and online reading communities can share ideas, and librarians can help find books that appeal to you individually.
Here are some cross-genre ideas I recommend for getting started, as well. Of course, given the fluidity of Steampunk literature, several of these books fit in more than one category
–
I've placed them where I thought they fit best. I've not covered every genre, just the ones I'm most familiar with. Also, many of them are the first books of a series
–
I'm partial to a good series. I hope you, Dear Readers, will explore on your own and help fill out the list!
Ah, Romance! The beautiful heroine in dire straits,facing insurmountable odds, with the dashing and probably dangerous man ready to save
–
or doom
–
her. Sparks fly, evil is vanquished, and true love inevitably prevails. Unlike some Romance damsels in distress, however, the heroine of a Steampunk Romance is likely to be the one doing the saving.
•
Soulless (Parasol Protectorate #1) by Gail Carriger
•
The Iron Duke (Iron Seas #1) by Meljean Brook
•
Tarnished (The St. Croix Chronicles #1) by Karina Cooper
Westward, ho! Rugged cowboys and tough pioneer women
–
not to mention more than a few outlaws
–
are out to tame the Wild West, perhaps striking it rich on the way. With the aid of steam-powered transportation and modified six-shooters, our heroes (and heroines) endure adversity as well as the desert sun, riding off into the sunset and the next adventure.
•
Boneshaker (The Clockwork Century #1) by Cherie Priest
•
Dead Iron (The Age of Steam #1) by Devon Monk
•
The Buntline Special (Weird West Tales #1) by Mike Resnick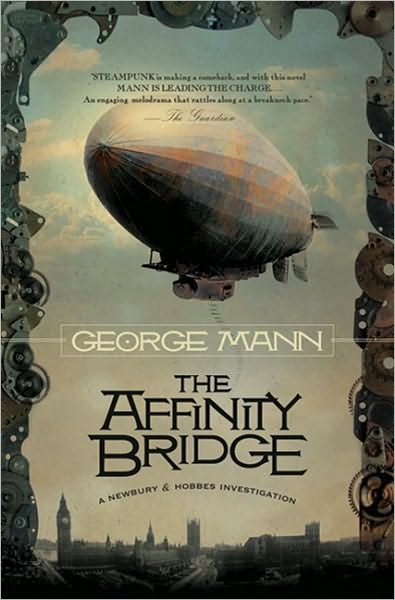 The game is most definitely afoot! Clues and puzzles, the unsolved crime and the hidden antagonist, lead us in a merry dance through dark alleyways choked with London fog. Analytical engines can help calculate the data, but nothing can replace human ingenuity when challenging a crafty foe in a battle of wits.
•

Steampunk Holmes: Legacy of the Nautilus by P.C. Martin

The Affinity Bridge (Newbury and Hobbes #1) by George Mann

The Steampunk Detective by Darrell Pitt
From the highest mountain tops to the lowest depths of the sea, chasing treasure and running from monsters, there's always danger and excitement in store for our intrepid explorers! Swept beyond
–
or under
–
the ordered humdrum life of civilization while battling the elements, failing technology, or genetically-altered monstrosities, our heroes are unlikely to survive
–
but we can be sure they'll find a way
–
probably one that lands them in even more trouble.
•
The Court of the Air (Jackelian #1) by Stephen Hunt
•
The Wake of the Dragon: A Steampunk Adventure by Jaq D. Hawkins
•
The Falling Machine (The Society of Steam #1) by Andrew P. Mayer
For those who never leave home without their holy water, silver bullets, and salt, the London alleyways house greater perils than mere mortals dare to dream! Zombies and vampires may not be the worst
–
they might even be the good guys. Luckily for our protagonists, clockwork technology can greatly improve the standard weaponry.
•
Clockwork Angel (The Infernal Devices #1) by Cassandra Clare
•
The Greyfriar (Vampire Empire #1) by Clay Griffith and Susan Griffith
•
The Strange Affair of Spring Heeled Jack (Burton & Swinburne #1) by Mark Hodder
Comics, graphic novels, and short stories are not genres, of course, but some readers may prefer more colorful and/or shorter introductions to Steampunk. Here are some great places to start.
Steampunk Comics & Graphic Novels
With excellent artwork bringing the Steampunk world to life, Comics and Graphic Novels entice the eyes as well as the mind.
•

The League of Extraordinary Gentlemen, Vol. 1 by Alan Moore, illustrated by Kevin O'Neill
•
Girl Genius, Vol. 1: Agatha Heterodyne and the Beetleburn Clank by Phil Foglio, Kaja Foglio, et al.
•
Aetheric Mechanics, by Warren Ellis, illustrated by Gianluca Pagliarani
Short stories are a great way to quickly dive into Steampunk, either to see if you like it or to find new authors.
•
Steampunk, edited by Ann VanderMeer and Jeff VanderMeer
•
Ghosts by Gaslight: Stories of Steampunk and Supernatural Suspense, edited by Jack Dann and Nick Gevers
•
Hot and Steamy: Tales of Steampunk Romance, edited by Jean Rabe and Martin Harry Greenberg
Whether you're a novice wading in the shallows or an old hand diving deep, I hope I've given you some ideas for a new direction to take in your odyssey into Steampunk!
~~~~~~~~~~~~~~~~~~~~~~~~~~~~~~~~~
Thanks so much for your input Jude! You've got some excellent advice in choosing your starting point! I know I started off with Steampunk Romance ( Gail Carriger all the way!) and it blew me away so I went from there. We will definitely be seeing some of these books crop up over the next few weeks so keep an eye out and you may find something that makes YOU fall in love with Steampunk the way I did! Tell me readers, what books started you off on Steampunk? Have you read any of the above titles and love them? Hate them? Let me know! (P.S. Commenting on today's post will gain you an entry to the grand prize giveaway!