Title: Katana
Author: Cole Gibsen
Series: N/A (?)
Pages: 375
Publisher: Flux
Date Published: March 8, 2012
Format: e-book ARC
Genre: Paranormal/ Fantasy (YA)
Source: Provided by Publisher via NetGalley
Synopsis:
Rileigh Martin would love to believe that adrenaline had given her the uncanny courage and strength to fend off three muggers. But it doesn't explain her dreams of 15th-century Japan, the incredible fighting skills she suddenly possesses, or the strange voice giving her battle tips and danger warnings. While worrying that she's going crazy (always a reputation ruiner), Rileigh gets a visit from Kim, a handsome martial arts instructor, who tells Rileigh she's harboring the spirit of a five-hundred-year-old samurai warrior.Relentlessly attacked by ninjas, Rileigh has no choice but to master the katana—a deadly Japanese sword that's also the key to her past. As the spirit grows stronger and her feelings for Kim intensify, Rileigh is torn between continuing as the girl she's always been and embracing the warrior inside her.
My Review:
Reincarnation is one of my favorite trends in paranormal literature today. There isn't a lot of it out there (at least not as much as vamps, weres, etc) and I really like the concept of having a soul mate that transcends the ages...call me a hopeless romantic...so I was SUPER excited when I got a copy of Katana from NetGalley! I loved the samurai and the history of all of the "eternal' souls. Not only is the main character Rileigh a reincarnated Samurai warrior, her true love and best friends are also eternal souls that are brought back throughout time to accomplish the unfinished business left in their last lives. Definitely something that deserves a second, even third look and it was a great story to get wrapped up in.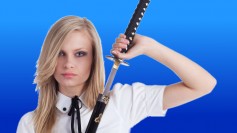 Rileigh was a pretty great character. She was likable and sarcastic enough to take a lot of the Samurai stuff in stride. I loved how she didn't let the fact that her personal life was going crazy keep her from her responsibilities like her mom, school, and her job. Sometimes in YA literature I find myself wondering if these characters ever go to school or actually do anything worthwhile...but not Rileigh...she struggled to deal with everything on her plate, but it was cool to see the different ways she managed to get her life together. Rileigh did have one flaw that really bugged me, which was the "woe is me" syndrome that tends to pop up in Paranormal books. You all know what I'm talking about...the "Why ME? What makes ME special? Now I'm a FREAK" Moment that happens all the time, and makes me want to slap the MC across the face. I'm like...BITCH PLEASE...You have freaking bad-ass KATANA skills. You can literally wipe the floor with would-be attackers and have a EFFING SEXY samurai boyfriend who is bound to you for eternity...WHY exactly are you complaining? I guess I'm just channeling my inner goth-girl, safety-pin-and-leather-wearing rebel from high school. I never cared what anyone other than my best friends thought of me so I guess it makes me view MC's who do care with just a bit of leftover rebel contempt...STICK IT TO THE MAN!
One thing that I didn't understand was Rileigh's instinctual dislike of her doctor. She wakes up in the hospital after being attacked, and instead of being thankful and curious about her accident, she is outright hostile towards the doctor. She claims that she just "got a bad vibe from him" but that's not enough for me at this point. There's gotta be something that makes her cringe on the inside...like she recognizes his face from a dream of her past...or she has the feeling that she's known him in another life...something. Instead, Rileigh comes off bratty and rude to the person who might have just saved her life and it bugged me...even though he did turn out to be on the dark side later on...I still would have liked an actual reason to not like him other than..."I just didn't like the guy." The same thing with Ri's Mom. Rileigh holds her in such contempt, and criticizes her so much (inside her head) that you almost feel bad for the ditsy, work obsessed, single mom. Like I said before, Rileigh is hugely sarcastic...sometimes to the point of being really harsh. This makes her kind of come off as the bad guy for being so critical and downright venomous towards her mom, but luckily grows up a little bit later and starts realizing what kind of relationship she wants with her.
As for the other characters, the two that I liked best were Quentin and Kim. Quentin is Rileigh's gay best friend and I loved that he still had a role to play after all the samurai S**t started to hit the fan. He was kind of the comedic relief as he had some of the most hilarous lines and his and Rileigh's quips and banter were a really fun part of the story. Kim on the other hand is mysterious, serious, and broods more than Draco Malfoy in the 6th Harry Potter book. This could have been a bad thing, but on our well-muscled, sexy as CRAP samurai warrior...I was okay with the brooding :) I also loved that the romance between Kim and Rileigh wasn't rushed despite them being soul mates from another lifetime. You would think that they would just make eye contact and jump all over each other, but Gibsen took it nice and easy, which gave the reader time to like them both as individuals first, before totally LOVING them as a couple.
If you liked Katana (or think you would) check out these books: