For the second Artist spotlight, we're going couture! Steampunk Couture to be exact! Introducing Marelle from Hopscotch Couture on Etsy! She's flirty, she's fashionable, she's absolutely fabulous and I am so pleased to be featuring her and all that she creates here on the blog. Marelle has done custom work for several celebrities and has been featured in Style magazine, Vogue for the People/U-Closet, Talk of the Town, Allure Gallery, Weekender, Bergen Performing Arts Center, Janice Charach Gallery, Kirby Center of Performing Arts, and The Forwardian magazine, just to name a few. She will be talking about her line, her work, and the fabulous life of a Steampunk Couture creator in general! Welcome to Andra's Marelle!
Hi everyone! Ok, so here we go....My name is Marelle, in French it means hopscotch, hence Hopscotch Couture, the name of my shop on Etsy. My line is also referred to as La Marelle Couture. Born in the wrong era, I have always been drawn to vintage and especially Victorian things. As a child not only did I paint and create things but I also loved to sit at my father's work bench and take things apart, (clocks, radios, what ever he would let me dismantle).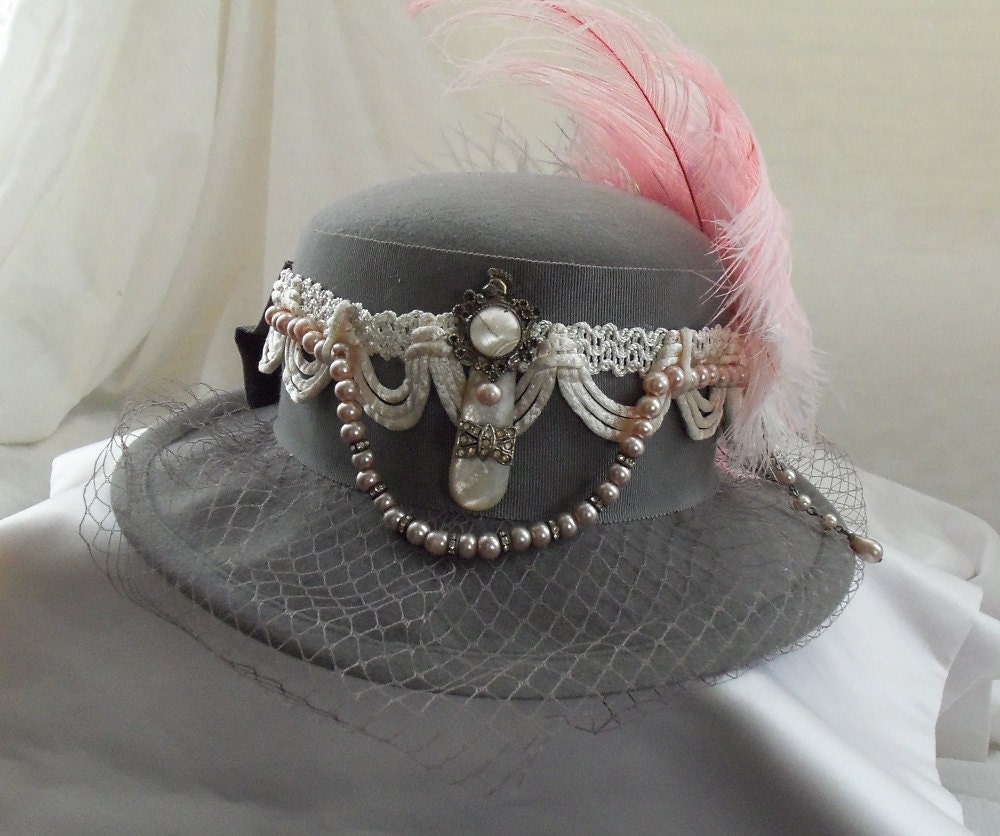 My art has evolved over the years but the style has always been described as Vintage/Modern. I love giving modern style and couture flare to previously loved items. I will use any interesting vintage item that catches my eye. You could say I have been making steampunk items long before I ever heard of the term. I would say I do live the lifestyle in a feminine steampunk way, from my wardrobe to my decor. I love it and I know it is not a trend it is a style that will continue to evolve as the years go by. I like to say my work is true Steampunk, meaning every piece that goes into my accessory line is made from genuine vintage materials, not made to look old, but, is in fact the real McCoy.
I live in the North East and over the years have formed some wonderful connections to get my supplies from. My favorite item to use at this time are what I call legs or feet. I find them on old silverware trays, jewelry boxes and I even broke some off of a very old cappuccino machine, fabulous gams. The craziest piece I have yet to finish, is a purse that actually walks on her fabulous vintage gams, (legs). As soon as I have completed this piece I will be taking my gal, on a leash, shopping all around Time Square. In case your wondering, yes I am serious. Think Beauty and the Beast when the furniture and items came alive and you get the idea behind my gal. She is large, brass and bold and definitely not for sale. No this gal is all mine and going to stay with my personal collection. All my purses are given names and numbers, this one will have a very special name and number, that is for sure. When the day come, this Spring, I will post my shopping NYC stroll on U-Tube and show off my gal and her fabulous gams with great pride.
Omigod! That sounds absolutely amazing! Kind of science-fictiony...but totally sweet! How many of us would love it if our purses could walk around behind us instead of us having to lug them everywhere! lol. I will definitely be waiting to see what your girl looks like! Too bad she won't be for sale because I'm positive that people would just eat them up! What do you guys think? Would you want Beauty and the Beast-style handbags following you around carrying your cell phone, lipgloss, etc? lol!
Marelle also has started to create Steampunk Bridal-wear. They are absolutely gorgeous and whimsical pieces that are sure to be talked about for years to come. Check them out in slide-show form here.
Marelle has generously donated over THREE HUNDRED DOLLARS worth of her jewelry to give away on the blog...Crazy right??!? But I'm not going to argue with her because these pieces are truly unique, creative, and nothing at ALL like you will find anywhere else. One piece will be going towards the Grand Prize Giveaway...I won't tell you now what it is, but I will give you a hint...it is a necklace, it has gold and jewels on it, and it's probably one of the most creative Steampunk necklaces I've seen. All of Marelle's pieces are unique and original, but this one takes the cake. But enough about that...you guys want to know what is up for grabs today right? Right...take a look!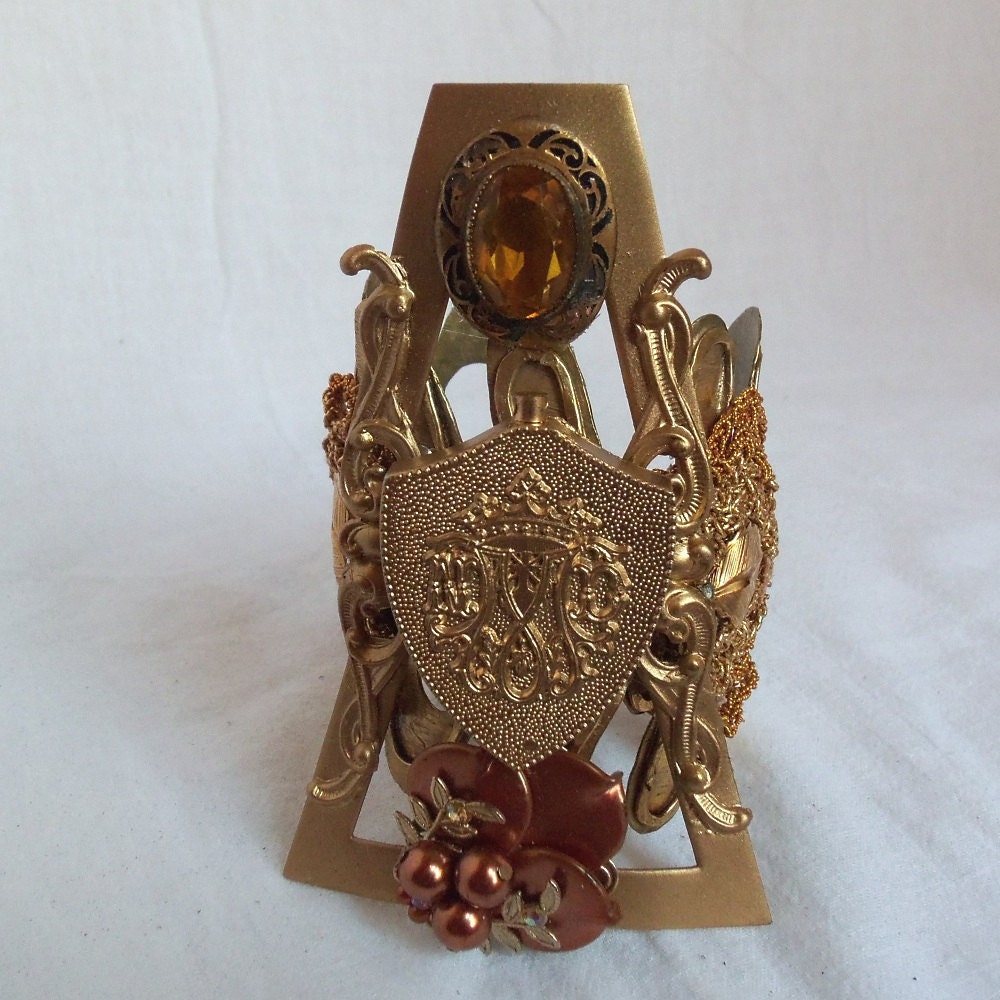 Amazing right? Vintage jewelry hardware and gold lace combine to make one large kick ass steampunk work of art. The perfect piece to complete any Airship Pirate Captain's outfit, create the best Zena Warrior Princess look, or to accessorize your Victorian Socialite so that they will be the talk of the town wherever they go. But you know the best part about this piece? It has a secret compartment! That's right! A freaking secret compartment. Fans of Steampunk will appreciate the gadgety nature of this amazing contraption. Able to hold any amount of things from makeup to small automatons, this is an absolutely amazing expression of the Steampunk genre. Worth over 100$, this might be the chance of a lifetime for those of us not able to spend tons of money on our hobbies. If you are going to start collecting or costuming you definitely MUST have a piece like this. I'll show you a close-up of the "secret-compartment" part...it is the royal crest and definitely stands out.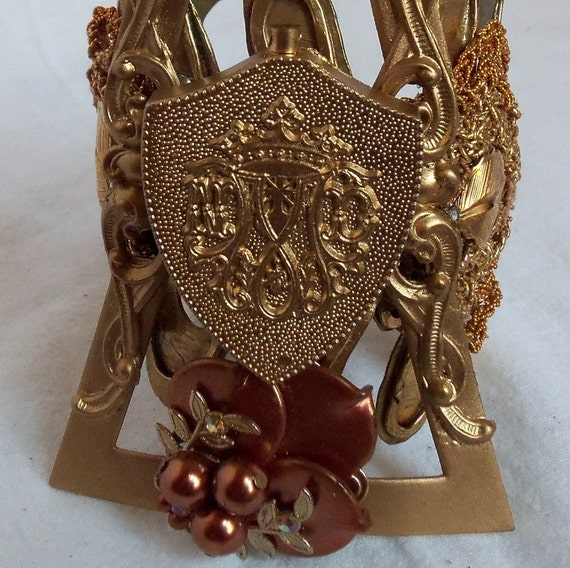 SO! Do you want to start your Steampunk collection with a HUGE bang/Conversation piece? Well just enter in the rafflecopter below and you can gain your chance to win! You can come back and tweet once a day fro the duration of Let's Get Steamy for additional entries. Also remember, for every comment left on the blog during Let's Get Steamy, you gain an entry into the Grand Prize Giveaway which includes a mystery necklace from Marelle's line also worth over 100$.
a Rafflecopter giveaway
Thanks for checking out Marelle and the blog today! Remember there is also a giveaway of a custom made
Steampunk Hat
from Ester at Once Upon A Bustle going on. You could get all the accessories you need to create your very own Steam persona! Or at least a very cool Halloween costume! Good Luck! P.S. Commenting on this post counts towards the Grand Prize Giveaway for Let's Get Steamy!