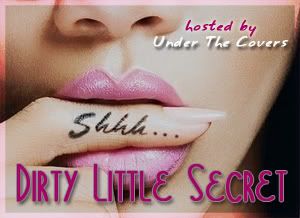 Dirty Little Secret is a weekly meme hosted by us at Under the Covers. Every Thursday we get to know other bloggers and our readers more intimately by asking them a question hoping to reveal their dirty little secrets. We hope that you will all join us! To participate in the meme all you need to do is:
1. Be a follower of Under the Covers.
2. Create a post in your blog taking the meme image (code above) and copy instructions.
3. Answer the question we propose! This can be done in any way you like, post a video, write a post etc.
4. Then add your link below.
Non-bloggers: We want to hear from you as well!!! Let us know your answer in the comments!
We hope you join us and let us know your Dirty Little Secrets!
This week's question:
Do you prefer Dark and Broody? or Blonde and Boisterous.
Um...why can't they be Blonde, Broody AND Boisterous? In a perfect world where I land the guy of my dreams it would definitely be Jax from Sons of Anarchy. He's all of the above...and he is sexy as HELL....rather than describe him with mere words...I will just rock your minds with these seriously mouth-watering pictures. Sorry if any of you faint. He's that shocking.
You're welcome.