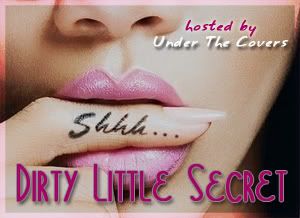 Dirty Little Secret
is a weekly meme hosted by us at Under the Covers. Every Thursday we get to know other bloggers and our readers more intimately by asking them a question hoping to reveal their dirty little secrets. We hope that you will all join us!
To participate in the meme all you need to do is:
1. Be a follower of Under the Covers.
2. Create a post in your blog taking the meme image (code above) and copy instructions.
3. Answer the question we propose! This can be done in any way you like, post a video, write a post etc.
4. Then add your link below.
Non-bloggers: We want to hear from you as well!!! Let us know your answer in the comments!
We hope you join us and let us know your Dirty Little Secrets!
This week's question:
Christmas is over. Santa has left the building. We now have 2012 to look forward to! What new release are you looking forward to in the new year?
Kresley Cole has stolen my heart with all of her books I cannot WAIT to find out what Lothaire has in store for me!
Laurell K. Hamilton's Kiss the Dead (Yes I know this is an image of Hit List...Kiss the Dead doesn't have a cover yet apparently...) So despite being underwhelmed my most of Laurell's recent novels, I can't seem to stop reading them. I'm so caught up in the characters that I HAVE to see what happens to them...even though I have been disappointed lately. I'm hoping Kiss the Dead will bring Anita back from wherever it is Laurell has taken her...