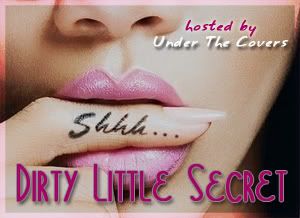 Dirty Little Secret
is a weekly meme hosted by at Under the Covers. Every Thursday we get to know other bloggers and our readers more intimately by asking them a question hoping to reveal their dirty little secrets. We hope that you will all join us!
To participate in the meme all you need to do is:
1. Be a follower of Under the Covers.
2. Create a post in your blog taking the meme image (code above) and copy instructions.
3. Answer the question we propose! This can be done in any way you like, post a video, write a post etc.
4. Then add your link below.
Non-bloggers: We want to hear from you as well!!! Let us know your answer in the comments!
We hope you join us and let us know your
Dirty Little Secrets!
"
Only three days (3 sleeps!) to go until Christmas, what are you hoping to find in your stocking this year?
"
Let's see...Well...I would Really REALLY like to get a little Netbook or something in my stocking. My laptop has been broken for like...5 months now. I've been getting by on my home computer and using the school computers in my campus library, but it's complicated and time consuming and I'd just rather have something little and cute to take with me into my boring classes so that I can blog...*cough*...did I say that? Of course I meant study...
Of course, If Mrs. Clause is helping Santa pick out gifts, I wouldn't mind if she dropped off a Holiday Honey for me...like him down there :D
And on that happy HAPPY note, I hope you guys have a fabulous weekend and a Happy Christmas! And if you don't celebrate X-mas, well...you are missing out on some sexy Santa's helpers :D