Hey my lovely followers! I know you all have been anxiously awaiting the results of not only my 500 followers giveaway, but the Spooktacular Giveaway Hop! I'm not going to lie...I kind of like making you all sweat it out...However! I have now decided that you've waited long enough! (Plus I want to get these mystery boxes shipped out while I still have the cash to do so...) So without any further ado...
The winner of my 500 follower giveaway, whose prize is the Mystery Box of Books featuring Lola and the Boy Next Door and The Unbecoming of Mara Dyer is!!!
Maggie L!!!!
Congrats Chicky!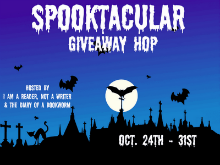 And the winner of the Spooktacular Giveaway Hop featuring a SECOND Mystery Box of Books...Super scary ones this time is....
Candace R!!!!
Way to go girl!!!
I have sent both the winners an email. As per usual, they will have 48 hours to respond before I pick a new winner so if you won get back to me ASAP!!! Also, I just want to say a HUGE thank you to all of you for participating in my giveaways and commenting on all my reviews. I know I write a lot of them...lol...I'm thinking of starting a monthly feature of the most involved reader of some sort. You know..the person who comments the most gets the book of their choice or something...anyways...look to the blog for more giveaways to come up next week!