Top Ten Tuesday is a weekly meme hosted by
The Broke and the Bookish
.
It was created because of their love of lists, and I myself love lists as well. Everyone is welcome to join in, and don't worry if you can't think of 10 - just do as many as you can. And of course, be sure to link back to TBATB (and leave me a link here too!) on your post!
This week's Topic IS: The Top Ten Book Endings That Left Me With My Mouth Hanging Open.
Faefever by Karen Marie Moning
This was probably one of the most horrifying endings I have EVER read. Seriously, it almost ruined the series for me, and if I would have read the series from the beginning, and not picked it up after they were all out, I would have probably just walked away from it. Not only does the equivalent of the end of the world happen, but something happens to the main character Mackayla that is so awful that you can barely get over it. I was actually offended at the ending. It was the closest I've ever come to quitting a series that I was more than halfway through. If you wanna read this series, make sure you have the next book, Dreamfever, on hand before you read Faefever...otherwise you might not make it past that ending.
In the Belly of the Bloodhound by L.A.Meyer
This is probably one of my favorite books in the series. It takes the cast of characters that I love, then throws a wrench in all of their plans and takes them somewhere I would never have expected. I absolutely adored this book, right up until the ending. It was another one that knocked my feet out from under me and had me going...WHAT?!?! HOW?!??! NOOOO?!?!?!? It wasn't bad per-se...just unsettling. Unfortunately this is a series that I've been part of since the beginning, which means that I've had to wait at least a year between each book.
Dreamfever by Karen Marie Moning.
Ms. Moning has a skill for hitting our baffled brains with one-two punches at the end of her books. I SO recommend that you get all 5 of the Fever books before starting, because you will be hit by such emotional uppercuts as rape, murder, the death of a MC, and the end of the world. I finished Dreamfever right as the Library was closing. I ended up lying to the librarians and saying that I thought I forgot my purse inside in order to get in, and quickly self check-out the next book lol.
Hard Bitten by Chloe Neill
These all seem to be bad cliff hangers...probably has something to do with bad feelings/thoughts sticking with you longer than the good ones.As for Hard Bitten? Shock.Of.The.Century. I NEVER saw this one coming and I still can't force my mind to accept what happened. I think I am holding out hope for the next novel to tell me it was all a lie...if I believed otherwise, I might go to pieces and have a good ugly-cry because I DO NOT want the person who died to be gone. I just wont believe it. I mean even if he is...there HAS to be a way for him to come back...there just has to be...
Shadow Kiss by Richelle Mead
Shadow Kiss definitely had an ending of the traumatic variety. It was amazing that Mead took us from a moment of such joy and love, then completely smashed it and left both the MC Rose, and the reader broken and absolutely destroyed. I am able to look back on it now with clarity and objectiveness only because I know that later on in the series, Rose, Lissa, and Dimitri are able to fix things, but at the time I was definitely distraught. What is it with author punching us in the gut with heartbreak lately? It's awful...I actually felt worse about the ending of this book than my last break up...which incidentally was last week. Yep guys...Andra is officially single! lol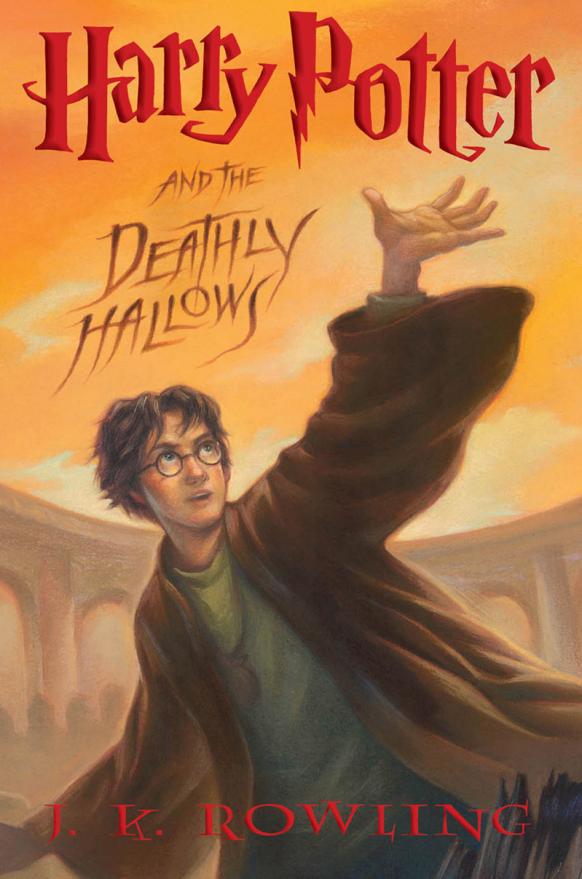 Harry Potter and the Deathly Hallows
This was less of a mouth hanging open than the beginning of the onset of my PPD (Post-Potter Depression). My mouth was hanging open pretty much throughout the entire second half of the novel...as were my tear ducts. I remember my boyfriend at the time had to leave because I was crying so loud that he couldn't concentrate on his Halo or whatever he was playing. I probably cried from the time Dobby died to the time that the book ended...and it eas definitely an ugly cry...you know...blotchy face, swollen red eyes...I was uglier than a house-elf with a hernia. The epilogue wasn't very mouth dropping...in fact I kind of thought it was a tad corny...but otherwise I think I was absolutely shocked the entire time while reading. Talk about emotionally wrecked...by the end I had to take a nap and recharge my batteries because just I couldn't deal.
Catching Fire by Suzanne Collins
What a rush! The end of the book was so shocking to me, and it was a really mind blowing one as well. It was a horrific ending too. You are left knowing that Peeta is captured, perhaps killed by the Capital. I loved Peeta by this point. He cared for Katniss so much, and was so self-sacrificing, that you just hurt every time he gives of himself for her. Then, shock of shocks, District 12 is destroyed. That scene really stuck with me. You really feel the desolation and the struggle to fight the control that the Capitol has over the country. It is such a powerful image, and it just makes you want to read Mockingjay NOW.
So yeah...I know that isn't 10...but those are the worst cliffhangers I can think of...as much as I love the suspense that a good cliffhanger has, sometimes one that is too dramatic can leave me with a negative impression. Hopefully, nothing will take me by surprise this year and I will live bookishly ever after with all my stories ending with all the loose ends tied. Yay! Happy Tuesday guys!