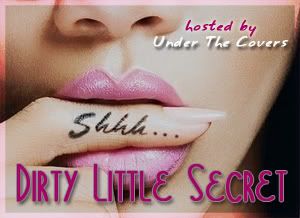 Dirty Little Secret
is a weekly meme hosted by Under the Covers. Every Thursday we get to know other bloggers and our readers more intimately by asking them a question hoping to reveal their dirty little secrets. We hope that you will all join us!
To participate in the meme all you need to do is:
1. Be a follower of Under the Covers.
2. Create a post in your blog taking the meme image (code above) and copy instructions.
3. Answer the question we propose! This can be done in any way you like, post a video, write a post etc.
4. Then add your link below.
Non-bloggers: We want to hear from you as well!!! Let us know your answer in the comments!
We hope you join us and let us know your
Dirty Little Secrets!
"
If you could shape shift into anything, what would it be?
"
Definitely a Phoenix. I've loved them since Fawkes in Harry Potter, and I recently read a series that had them in there...plus I'm kind of a pyro and I love fire...Overall I would just like to be a regular shifter. You know, one that can take on any form? That way I wouldn't have to choose and I could be whatever I wanted at the time :)
How about you guys? Will Alcide from True Blood have you turning into a slavering wolf once a month? Or do your tastes run to a more...feline nature?? Let me know for this weeks Dirty Little Secret!