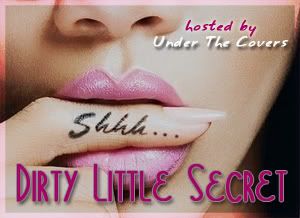 Dirty Little Secret
is a weekly meme hosted by Under the Covers. Every Thursday we get to know other bloggers and our readers more intimately by asking them a question hoping to reveal their dirty little secrets. We hope that you will all join us!
To participate in the meme all you need to do is:
1. Be a follower of Under the Covers.
2. Create a post in your blog taking the meme image (code above) and copy instructions.
3. Answer the Dirty Little Secret question!
4. Then add your link below.
Non-bloggers: We want to hear from you as well!!! Let us know your answer in the comments!
We hope you join us and let us know your
Dirty Little Secrets!
This Week's Question Is:
"Who is the villain you love to hate?"
Woo that's a tough one. There are two villain's that I can't stand...but at the same time, I love that they are so maliciously evil.These dastardly villains are: Olaf from Laurell K. Hamilton's Anita Blake Series, and Ashleigh Goodling from J.L. Bryan's Paranormals series.
Ashleigh Goodling is not your typical villain...She's a teenage girl after all...but in some ways she is almost worse than your stereotypical bad guy. Ashleigh has the power to infuse her words, touch, and actions with love. This sounds like a great power to have...but you know what they say about power and corrupting...Ashleigh uses her powers to manipulate everyone around her into doing her bidding. Her cold and calculating nature and the way she manipulates everyone without a second thought is so disturbing and awful. These people are helpless to her powers and they are forced to do things against their will, their morals, their sexuality...absolutely anything that Ashleigh wants, she gets...and there's almost no way to stop her because while she's making you do these horrible things, you love her for it.
Olaf is a serial killer. Our government chooses to look the other way as he plies his trade in third world countries. He's forbidden to "hunt" on American soil...but that doesn't necessarily stop Olaf. One of the creepiest, blood curdling things I've ever read was in Obsidian Butterfly (Book 8 in Anita Blake). Olaf and Anita are trying to kill an immortal, insane vampire...and they have to cut out his heart...Olaf grabs Anita's hand with knife, and uses it to sever all of the arteries...this wasn't the gross part...the part that really sticks with you, is that while he's dismantling a man in a hideously gruesome way...he's looking at Anita with heat in his eyes like he's doing other...more intimate things with her than cutting out a man's heart...then he kisses her...kisses her with the heart's blood pumping on her hands and face....*shudders* It is SO disturbing!
So That's my Dirty Little Secret for this week! Make Sure to check out Under the Covers for other creeptastic villains and have a Happy Thursday!!