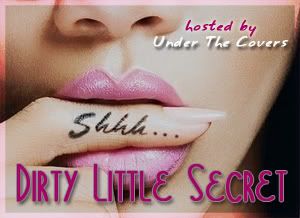 Dirty Little Secret is a weekly meme hosted by the ladies at Under the Covers. Every Thursday we all get to know other bloggers and our readers more intimately by asking them a personal (occasionally invasive) question hoping to reveal their dirty little secrets. We hope that you will all join us!
To participate in the meme all you need to do is:

1. Be a follower of Under the Covers.
2. Create a post in your blog taking the meme image (code above) and copy instructions.
3. Answer the question we propose! This can be done in any way you like, post a video, write a post etc.
4. Then add your link below.
Non-bloggers: We want to hear from you as well!!! Let us know your answer in the comments!
We hope you join us and let us know your
Dirty Little Secrets!
Complete the following sentences with fictional character names:
I would have a one night stand with...
I would like to be sandwiched between....
Ha! This sounds like that game you would play back in high school! You know...Kill, F**K, or Marry? Woo and this one will be a lot more fun with fictional guys instead of the nerdy band geeks I used to hang out with....Holy crap, how many different ways could I answer this one??? I have so many fictional guys that could fit these roles! Especially the first question...heh heh heh...It's a good thing that real life guys can't seem to compare or I would just be naked. All the time...lol well here we go:
I would have a one night stand with...Mistrael from Merry Gentry series
I would marry....Lachlain from Immortals After Dark series
I would be sandwiched between....Barrons from the Fever series and Bones from the Night Huntress
I would go bi for...Elena from the Women of the Otherworld series
So what do you guys think?
And also, today I am participating in Thursday's Question of the Day. I'm not sure if this is a meme or not, but
Good Choice Reading
posted a Thursday question, and I really wanted to answer it...so her I am...with said answer.
Today's Question of the Day:
Do you have a Book Soul-Mate? Who is it?
I actually have a few book soul mates. The first one is my brother. I can't even count the number of books he's loaned to me that I became obsessed with and never gave back. He used to get mad because he would be reading a series, and then tell me about it, and since I was a much faster reader than him I would usually over take him in a day or two and steal the book he was reading. This happened with the 7th Tower series, the Pendragon Series, and all kinds of Stephen King books.
I also have a Harry Potter soul mate. His name is Gavin and I met him in college. He is the ONLY boy I have ever met who knew as much about Harry Potter as I do. We had these elaborate hour long discussions about how Hogwarts had plumbing, and the sequence of wand motions for spells, and just wizarding history in general. I am ashamed to admit that he actually beat me in the Harry Potter Jeopardy Game that my college hosted last year...it was only by 200 points but I still feel cheated....anyways, I would probably marry the kid if he hadn't had a girlfriend at the time, and he's graduated now so I guess that ship has sailed...*sigh* I guess I'll have to find my Harry elsewhere.
My third book soul mate is my friend from work, Stephanie. I was SO freaking excited to find out that she likes to read! We had been working together for a while, but we never really talked about books or anything until we both got e-readers and started gushing about how amazing they were and that of course lead to what books we've got on them. And SO one of the greatest bookish relationships was formed! I felt like we spent more time talking about books this summer than working, and she had some great book recommendations! Now that I'm back at school, I feel like I've lost my favorite book-buddy. I live with 8 girls and NONE of them read for fun...totally lame. I seriously miss her so much (Steph if you're reading this I really do! Get on facebook more often so we can chat).
So that was my Dirty Little Secrets, and now you've met my book soul mates! Happy Thursday everyone!