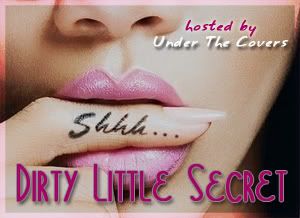 Dirty Little Secret is a weekly meme hosted by Under the Covers. Every Thursday we get to know other bloggers and readers more intimately by asking them a question hoping to reveal their dirty little secrets. We hope that you will all join us!
To participate in the meme all you need to do is:
1. Be a follower of Under the Covers.
2. Create a post in your blog taking the meme image (code above) and copy instructions.
3. Answer the question we propose! This can be done in any way you like, post a video, write a post etc.
4. Then add your link on Under Cover's blog.
We hope you join us and let us know your
Dirty Little Secrets!
This weeks question:
"
If you were the heroine of a novel,
who would be your sidekick?
"
I absolutely adore Jenks from Kim Harrison's The Hollows series. He's sarcastic, irreverent, and totally bad-ass. He's always got Rachel's back and I love all his comments about Tinkerbell being a Disney whore...he would be an excellent sidekick.He's got such a foul mouth that he'd make other pixie's ears bleed. Love him!
But since Rachel Morgan already has him as a sidekick, I'll have to have someone who looks like Chris Pine, is snarky, witty, and knows how to save my ass when I get into tons of trouble...which I'm bound to do now and then...