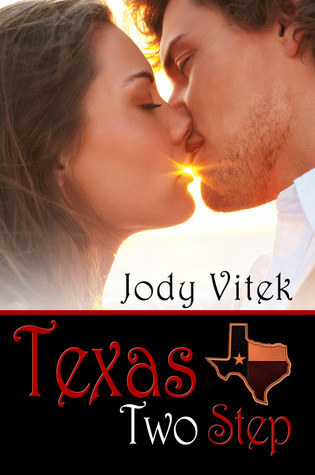 Title:Texas Two Step
Author: Jody Vitek
Series: N/A
Pages: 228
Date Published: November 6th, 2015
Publisher: Satin Romance
Format: Paperback
Genre:Romance
Source: Goddess Fish Blog Tours
Buy Me!
Synopsis:
You first met Chad Rogers and Chloe Atwood in Florida Heat, now you get to read their story. Old family ties broken, childhood pain healed and true love revealed—one step at a time.
One phone call sends Chad Rogers back to the one place he's been avoiding—home. Being at his mother's side after she is shot, he faces the younger brother who tormented him during childhood and his ex-lover, Chloe Atwood. Chloe Atwood is engaged to a family friend. Chad Rogers steps back into her world, spinning it off its axis. She sees him in a new light this time around, leaving her to question if they can have a future together.
~Try an Excerpt!~
Chad peered at his brother who mirrored his position. Ryan didn't make eye contact.
"Things were going good until you came along. I resented you because Mom no longer gave into my needs. It was you. Always you. Dad never meant to hurt Mom."
"Are you going to make excuses for him?" He sat upright. Angry at Ryan for defending the man they called dad.
Ryan's blue eyes locked dead-on with his. "No. He's a different man from back then."
"Explain to me what went wrong. What happened that made Larry, dad, snap?"
"After I graduated college, Dad told me that he and Mom had trouble brewing prior to Mom getting pregnant with you. When she did get pregnant, that's when everything went to hell." Ryan's gaze fell to the floor. "There's more to this. I think you should talk to her."
"Why? Why don't you tell me? We're talking now. Tell me what you know." Both of his legs bobbed. His stomach knotted. What was the unknown?
"I watched Dad with her and how he hated you. Yes, he hated you but wishes he had handled things differently. I do, too. I have no excuse. I learned from Dad, a bad example."
"I can never forgive him."
"Can you ever forgive me?"
Chad regarded his brother. "This is a start. A good start. But tell me what you're not saying." He had a right to know what the hell his brother wasn't telling him.
"I'm sorry, Chad, but there are things I'm not at liberty to share." Ryan glanced at his watch. "When they release Mom, ask her about your father. I need to leave. Duty calls." Ryan stood from the couch.
Chad rose so Ryan couldn't look down on him. He wanted to be on equal ground. "What the hell? That's it?" His voice raised an octave, cracking. Looking around, he lowered his voice. "We make some progress in our relationship, and you're leaving me to talk to Mom?"
"Chad, I'm glad we took a step toward being better brothers than we ever have been, but it's not my place to tell you more." He shuffled from the small furniture grouping. "Don't talk to Mom about this until she's out of the hospital. Tell her I'm sorry I missed her and will call later." With that, he walked through the corridor toward the elevators.
Chad fell onto the sofa and rested against the back. What the hell was Ryan keeping from him that he couldn't say about their father? He wouldn't ask his mom until she was home. Until then, it was going to drive him crazy.
~Meet Jody!~
Born and raised in Minnesota, Jody has remained close to home living with her husband of twenty plus years, three children and a cat named Holly. Growing up, she enjoyed reading V.C. Andrews' the Dollanganger series, starting with Flowers in the Attic, S.E. Hinton, and Stephen King to name a few. Today her tastes run across the board in fiction and non-fiction, in all genres.
She has traveled throughout the United States, to the Bahamas and Cancun, Mexico. Between watching her son's soccer games, maintaining one of the many scrapbook albums, gardening and being the COO of the Vitek household, she writes contemporary romances.
Website: www.jodyvitek.com
Email: info@jodyvitek.com
Facebook: https://www.facebook.com/pages/Jody-Vitek-Author/142820225824162
Jody will be awarding a $25 Amazon or B/N GC to a randomly drawn winner via rafflecopter during the tour, and a $20 Amazon or B/N GC to a randomly drawn host.
a Rafflecopter giveaway